15 October 2015, Lagos – From the wind turbines that dot the plains of northern Germany to the solar panels speckling the roofs of Bavarian farmers, the shift to renewable energy has transformed the German landscape.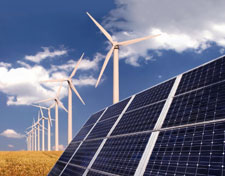 It has reverberated through the economy too, squeezing the profits of traditional utilities and prompting complaints from industry over high electricity prices.
In June, the utility Eon shut down its Grafenrheinfeld nuclear plant seven months ahead of schedule, marking a milestone in Germany's transition from nuclear power. The closure of Grafenrheinfeld, serving the manufacturing heartland of southern Germany, underlined the country's phasing out of nuclear energy and the simultaneous growth of renewables that have taken up the slack.
Proponents of the Energiewende say the success of the shift has defied the sceptics. Patrick Graichen, executive director of Agora Energiewende, a Berlin-based think-tank, says: "We will probably reach 30 per cent [of electricity generation from renewables] this year, compared with where we were 15 years ago — which was 6 per cent.
Three challenges remain. While the use of nuclear power is shrinking, the country remains heavily dependent on lignite and coal, which generated 26 per cent and 18 per cent respectively of German electricity output last year.
Angela Merkel's government is under pressure to curb the use of coal and lignite to meet its target of a 40 per cent reduction in carbon emissions by the end of the decade from 1990s levels.
But Germany abandoned plans to raise emissions charges for older coal-fired power stations in July, in the face of an outcry from the power sector. Instead, 2.7 gigawatts of lignite-fired plants will be placed into a reserve from 2017 and then closed after four years.
Gas-fired plants, which produce CO2 in lower quantities than burning coal, have struggled to compete with cheaper coal at a time when carbon allowances are at rock bottom prices. In March, Eon filed to close two gas-fired plants in Irsching, Bavaria, because there was no prospect of operating them at a profit.
The carbon-intensity of Germany's energy mix needs political commitment to resolve, according to analysts.
"We will probably go down a path similar to what we did on phasing out [hard] coal mining," says Dr Graichen. We had a long debate . . . which resulted in the Kohle-Kompromiss."