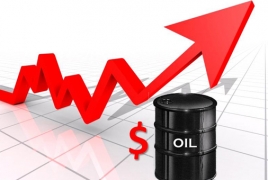 16 October 2015 – Crude oil futures rose on Friday to snap a week-long decline as investors bet falling US production would cut a global surplus, while the country's gasoline and distillate inventories dropped more than expected.
However, analysts cautioned the price recovery may not last, with more supply likely from Iran. Global benchmark Brent crude has fallen 4.5% so far this week, and has plunged more than a quarter since May.
Brent's new front-month December contract rose 40 cents, or 0.8%, to $50.13 a barrel in early trading, after ending up 4 cents at $49.73 a barrel. November Brent finished down 44 cents at $48.71 a barrel on Thursday before expiring.
US crude's front-month November contract rose 47 cents, or 1.01%, to $46.85 a barrel, after settling down 26 cents, or 0.6%, at $46.38 a barrel.
"The market is catching up with decreasing US crude production. US crude production has resumed its downtrend," said Daniel Ang, an investment analyst at Singapore-based Phillip Futures.
"Even if crude prices go up now, we could be seeing Iranian crude coming back to the market, pushing it down again. I think downward movement is more likely for the rest of this year."
Oil rallied sharply in the first week of October on optimism that falling US production could mitigate Opec supply growth.
US shale production is expected to fall the most on record in November, extending a nationwide decline in output for a seventh consecutive month, according to a forecast from the US Energy Information Administration (EIA)this week.
Data from the EIA showed that gasoline stocks fell by 2.6 million barrels last week, beyond analysts' expectations for a 1.7 million-barrel drop. Distillate stockpiles, which include diesel and heating oil, fell by 1.5 million barrels versus expectations for a 60,000-barrel drop.
But US crude stocks surged by 7.6 million barrels to 468.56 million barrels, well above expectations for an increase of 2.8 million barrels, although below the 9.4 million-barrel jump reported on Wednesday by industry group American Petroleum Institute (API).
Oil markets were also supported as Asian shares got a bright start on Friday, catching some of Wall Street's shine after upbeat US price and jobless claims data calmed some recent concerns about the strength of the US economy.
"We expect the oil price recovery to proceed at a measured pace, with significant oversupply continuing through (the first half of next year)," Michael Hsueh at Deutsche Bank said in a note.
*Reuters