21 October 2015, Sokoto — Petroleum Research Group of Usmanu Danfodiyo University Sokoto yesterday urged the federal government to build on the findings on crude oil discovery in Bida, Niger state, towards generating reliable data capable of attracting investments in the Bida basin.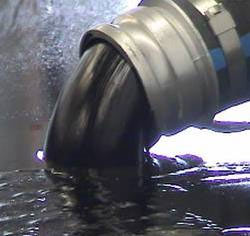 The team had conducted a research on a dark oily liquid that is emitted from the ground at different locations around Daban Community of Lavun Local Government Area of Niger State.
Speaking on the research work, a member of the team, Prof. Umar Zaki Faruk, said: "It was discovered that the material conforms with the biomarker characteristics of crude oil generated from matured source rock."
He said survey revealed that the dark liquid oozes from the ground and flows into river Madeko in the outskirt of the Daban community and that it could not be attributed to any possible artificial source.
 "It was found that the seepage predates the settlement thus, the community's ancestral history and superstitions are intertwined with it. Consequently, soil and water that were visibly contaminated with the dark liquid were carefully scooped and transported to our laboratory for analysis."
According to him, the result of the work concluded unequivocally, that the material was crude oil generated from matured oil prone kerogen.
He however said:"The data was not enough to determine whether the seepage was in the course of primary, secondary or tertiary migration but a confidence booster for investors in the upstream petroleum industry.
"In Nigeria, most of the oil explorations were in the coastal areas and off-shore where successful oil fields were discovered while the exploration of the inland-basins remains scanty possibly because of the high financial risk involved," he stated.