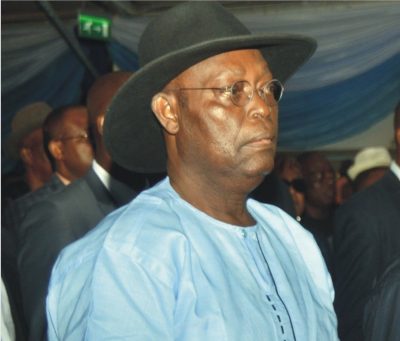 Mkpoikana Udoma
27 January 2018, Sweetcrude, Port Harcourt — Stakeholders in the South-South geopolitical zone have called for a total restructuring of the country in a way that will allow states to control and manage their resources.
The stakeholders comprising of serving Governors, former Governors, Senators, Ministers, Traditional Rulers, Pressure Groups and professionals in the six states of the zone namely, Rivers, Bayelsa, Akwa Ibom, Delta and Cross River State, made the call at the South-South Summit for the Restructuring of Nigeria, held in Port Harcourt.
Convener of the Summit, Professor Kimse Okoko, who read the resolution reached at the end of the event said the region is demanding for a new constitution that would define the powers of the Federal Government and the federating units, give room for resource control and state police, which would strengthen national unity.
While speaking, the King of Twon Brass and former Governor of Rivers State, HRM Alfred Diete-Spiff, maintained that the country must be restructured before any meaningful change can be achieved in the country.
Spiff, who chaired the summit noted that the nation needs a constitution that would be written by the people to favour their interests, adding that it was time to overhaul the entire governance system of the nation.
"If there is anything to go by knowing that the President advocates for change, is restructuring. Change must begin with restructuring."
Also speaking, the former Governor of Akwa Ibom State and Co-convener of the summit, Obong Victor Attah, said the region wants a return of a Nigeria that works for all.
"Restructuring must not be seen as demand for a previously known Nigerian, what we demand is a return to a Nigerian that we have had before, a Nigerian that worked for human progress and development.
"I feel pained when I hear people say they will not be intimidated by the demand for restructuring. Restructuring is not meant to intimidate anybody. It is meant to reestablish us as a fair, just and productive nation."
For his part, Cross River State Governor, Prof. Ben Ayade, called on the Federal Government to provide adequate settlement for the dispossessed people of Bakassi.
Ayade represented at the event by Sen. Florence Ita-Giwa, said that in a restructured Nigeria, oil wells belonging to the people of Bakassi Peninsula would not have been ceded to Cameroon.
Other keynote speakers at the event include, representative of Bayelsa, Delta, Edo, Rivers, Akwa Ibom state Governors, as well as pressure groups such as Isoko Youth Movement, Ogbakor Ikwerrre, Cultural Organization, Onelga Women Association and Niger Delta Self Determination Movement led by Ms. Ann-kio Briggs, amongst other speakers.