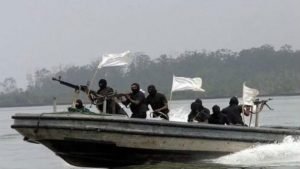 Michael James
31 January 2018, Sweetcrude, Lagos – The Director General of the Nigerian Maritime Administration and Safety Agency, NIMASA, Dr. Dakuku Peterside, has highlighted factors that have made Nigeria strategic in the fight against maritime crimes in the Gulf of Guinea, GoG.
According to him, these include being the country with the highest number of military contingent and might within the region, and its huge deposit of oil and gas, thereby making it a place of interest for international energy dynamics
The other factors, he said, are the geo-strategical location of Nigeria and it (Nigeria) being the largest delta areas of the world characterised by thousands of creeks.
Peterside stated these in a paper at the Royal Institute of International Affairs, Chatham House, London, titled, "Nigeria's role in combating maritime insecurity in the Gulf of Guinea".
He reiterated, in the paper, Nigeria's commitment to tackling maritime crimes in the Gulf of Guinea, saying Nigeria, which accounts for 65 per cent of cargo generated and accounts for the largest population within the region, is central to the success or otherwise of the fight against piracy in the area.
While acknowledging that maritime insecurity has economic, social and environmental implication in the region, the NIMASA boss told the international community that Nigeria was leaving no stone unturned to solve the challenges.
The challenges, he said, have led the country to approaching the menace through a total spectrum maritime strategy, including law enforcement, regional cooperation, response capability building and enhanced maritime domain awareness for all organs of government responsible for maritime security.
"We in Nigeria have installed satellite surveillance systems, coastal radar systems, and the global maritime distress and safety system (GMDSS) amongst others. The anti-piracy bill which is currently undergoing legislative procedures is aimed at criminalising piracy and all maritime crimes in the country's maritime domain with attendant punishment enshrined in the Nigerian legal framework," he said.