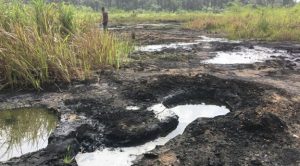 Mkpoikana Udoma
07 February 2017, Sweetcrude, Port Harcourt – The Norwegian Government has pledged to support the cleanup process of oil impacted sites in Ogoniland, Rivers State as recommended by the United Nations Environment Programme, UNEP.
The Norwegian ambassador to Nigeria, Mr. Jens-Petter Kjemprud, disclosed this when he joined the team of the Hydrocarbon Pollution Remediation Project, HYPREP, on a tour of oil impacted sites in Ogoniland.
Kjemprud said Norway was the biggest contributor to the United Nations, hence, has a lot to offer in the cleanup of Ogoniland.
 He explained that his visit to HYPREP office was to see how the Norwegian government can help Nigeria in the clean up process.
According to him, "Coming here as an Ambassador I have been planning to come for a long time based on the UNEP report which is now 7 years old.
"I am here to see for myself and to understand and to see in what ways the international community could be helpful to HYPREP and the Nigerian Government, in pushing forward the rehabilitation and clean up as proposed by UNEP.
"We are the biggest contributor to the United Nations and we hope to support the Nigerian Government," the Norwegian Ambassador said.
Also speaking, the Coordinator of HYPREP, Dr. Marvin Dekil, expressed optimism that the support of the Norwegian government will hasten the clean up process.
"We have had great discussions with the Norwegian ambassador and he has given us words from the government of his country.
"Support is something they are willing to provide to the project, they would like to see a lot of things done.
"We have spoken about livelihood support, technical support and provision of potable water. Whichever way the Norwegian government can support us, we will be glad to receive it."