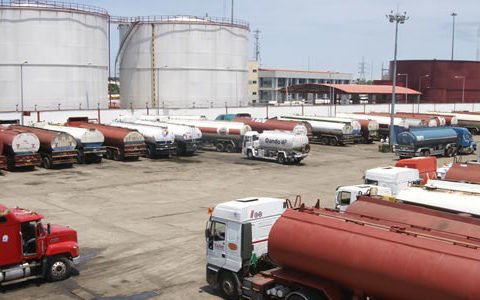 Ike Amos

11 February 2018, Sweetcrude, Abuja —The Downstream subsidiary of the Nigerian National Petroleum Corporation, NNPC, the Petroleum Products Marketing Company, PPMC, earned N125.73 billion from the sale of white petroleum products in the month of November 2017.
White petroleum products comprise Premium Motor Spirit, PMS, also known as petrol; Dual Purpose Kerosene, DPK, and Automotive Gasoline Oil, AGO, also known as diesel.
According to data obtained from the NNPC's Monthly Financial and Operations Report for November, the amount from white petroleum products sale in November was 25.4 percent lower than the previous month's revenue of N168.56 billion.
Giving a breakdown of the sales, the report noted that the PMS accounted for 85.96 percent of total white products sales, with N108.075 billion; followed by AGO with N13.35 billion and DPK, with N4.3 billion, representing 10.62 percent and 3.42 percent respectively.
On the other hand, the report stated the PPMC earned N6.18 billion from the sale of special petroleum products, Low Pour Fuel Oil, LPFO, and others. Specifically, the PPMC received N849.6 million from the sale of LPFO and N5.33 billion from the sale of other special products.
The report added that total revenues generated from the sales of white products for the period November 2016 to November 2017 stood at N1.964 trillion, where PMS contributed about 84.91 percent of the total sales with a value of N1.668 trillion.
In volume terms, the report stated that "A total of 996.97 million litres of white products were distributed and sold by PPMC in the month of November 2017 compared with 1.353 billion litres in the month of October 2017. This comprised of 876.97 million litres of PMS, 29.67 million litres of Kerosene and 90.34 million litres of Diesel.
"Total sale of white products for the period November 2016 to November 2017 stood at 16.25 billion litres, PMS amounted to 14.19 billion litres and accounts for 87.30 percent.
"Total special products sale for the month of November 2017 was 40.76 million litres comprising of 9.08 million litres of LPFO and other special products of 31.68 million litres."
The report maintained that products theft and vandalism had continued to destroy value and put the NNPC at a disadvantaged competitive position, adding that a total of 1,005 vandalized points were recorded between November 2016 and November 2017.
To this end, the report stated that the NNPC recorded a trading deficit of N6.79 billion, higher than the previous month's deficit of N0.41 billion, representing a N6.39 billion increase in trading deficit compared to the October 2017 performance.
It noted that NNPC's group operating expenses for November 2017, dropped by 23.52 percent to N270.8 billion, from N354.08 billion recorded in October, while operating expenses dropped to N277.59 billion from N354.49 billion recorded in October.
The report blamed the drop in the NNPC financials on increased cost in upstream activities as well as reduced revenue in the downstream value chain occasioned by high crude oil inventory in refineries due to unplanned operational shutdown of Kaduna Refinery and Petrochemical Company, KRPC and Port Harcourt Refining Company, PHRC, which led to increase loss from the Refineries in November 2017.