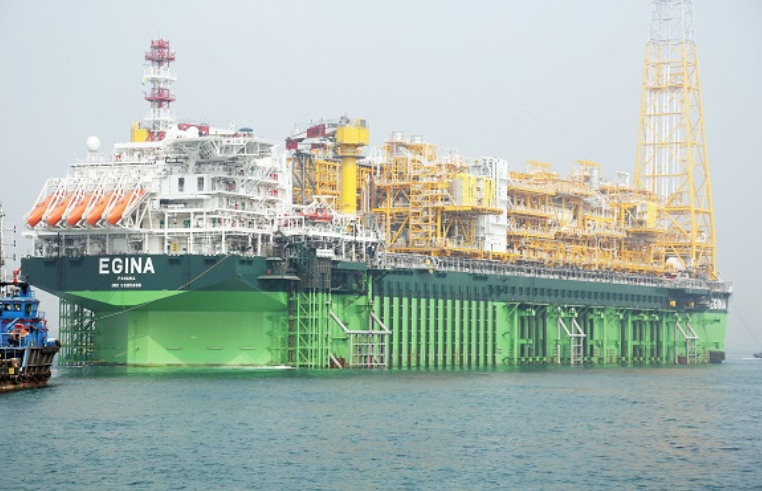 OpeOluwani Akintayo

14 February 2018, Sweetcrude, Lagos — Nigeria's Minister of State for Petroleum Resources, Ibe Kachikwu has said the Federal Government will make sure the ongoing Egina floating production storage and offloading, FSPO project will benefit Nigeria and the investors.
The minister gave the assurance when he and the Executive Secretary of Nigeria Content Development and Monitoring Board, NCDMB,  Simbi Wabote visited Total's Egina FPSO at Samsung Heavy Industry – Mega Construction Industry, SHI-MCI yard at LADOL's Free Zone on Tuesday.
According to him, President Muhammadu Buhari who doubles as the Minister of Petroleum, is "highly excited" about the project, and promises that it would add 200, 000 barrels of oil per day to Nigeria's production when completed, adding that the $16 billion Egina project is a "fantastic piece of work and a unique benchmark" in terms of investment for the country, Total and its partners.
"I congratulate those who have worked hard on this project. This showed that there are people who are genuinely interested in Nigeria. We need to have more of this kind of investment in the country because of its huge potentials and benefits we stand to gain".
"Let me assure us that this project will benefit all because the federal government is working round the clock to make sure the country benefits and that there is no complain while also putting in place the right policies and incentives for the investors."
"That Nigeria fully benefits from the project is the concern we will continue to work on because no matter the billions generated, you have to look at the knock-on effects like how many jobs created and how many of the entrepreneurs created have billions as a result. So we are working together with NCDMB because we are very proud of what they are doing. On the side of the fiscal and terms of the agreement, Nigeria is drilling down and making sure that the bottom lines are better. And we are also making sure they (Total and partners) don't have to invest 100 percent. It should be balanced to make the best investment for us."
Addressing worries that many will lose their jobs after June when the vessel will depart for Egina in Port Harcourt, the Minister said the government is working to bring into fusion other projects like Zabazaba and Bonga provided the government and investors can reach "proper terms".
However, he said the government is looking into helping those currently working on the project to start their own business and not depend on job roll-overs.
"We are going to work hard to see how we can bring into fusion other company jobs like Zabazaba, Bonga, provided we can reach proper terms with them".
"We still have a few months going to complete the Egina project but what has happened is that it has opened huge opportunities in welding, painting".
"We will be encouraging some of them to set up things with the skills they have acquired. We want young people to set up jobs themselves. We can't run a system where we feel there must be a constant migration of jobs all the time".
Kachikwu added that investments in the sector are booming.
"The Egina is a $16 billion investment, Bonga is between $9-11 billion, and Zabazaba is a fairly healthy sum too. Infrastructures are ready for revamping. There are so many opportunities. What we need is to get the policies and incentives to drive these investments"
When asked what is holding back the Zabazaba and Bonga projects, he referred to the investors.
"The investors are the ones to ask but seriously, you don't make a $10b investment by just walking through a tiny door. You have to understand your policy, you have to have your investors lined up and you've got to be sure of your renewals. Renewals are going on now in some of these existing investments. And of course, the terms have got to be right. Nigeria always comes around to complain about the terms as if they were not consulted. It's important that those terms are looked at and make sure the federal government gets what it's supposed to get", he added.
Full integration of FSPO to happen in Nigeria in 7-8 years' time- NCDMB
On his part, Executive Secretary, Nigerian Content Development and Monitoring Board, Simbi Wabote, said the board is working to see that full integration of an FSPO takes place in Nigeria in seven to eight years' time.
According to him, other operators in the oil and gas sector should emulate Total and its partners in ensuring that projects of such magnitude are carried out in the country.
"I say a big congratulations to Total for setting the pace in fabricating an FSPO in Nigeria using indigenous companies. Other operators should adopt the can-do attitude of Total".
"We are working to make sure a fully integrated FSPO is carried out in Nigeria in like seven to eight years' time", he added.
Long-term investment, collaboration key to achieving global standard – LADOL
Also speaking, Managing Director, LADOL Free Zone, Amy Jadesimi urged indigenous investors in Nigeria's oil and gas industry to invest in long-term projects and collaborate with each other to achieved the global standard.
"I will encourage indigenous companies to make long-term investments and long-term capacity development. I also encourage collaboration. We have to work together, we have to make sure that we grow the size of the market by holding hands, demanding that more work is done here and doing that work at global standards," she said.
She explained that since LADOL's conception in 2001, the company has continued to engage in one construction after the other, and will continue to engage in more constructions to ensure more Nigerians are trained and perpetually employed through its Upskilling academy.
"We are starting our Upskilling academy later in the year. Through this academy, we want to make sure that workers who worked in the Egina FPSO are perpetually employed and we want to make sure that more workers are trained for future projects," she added.
She thanked Total, NCDMB, the Minister for their relentless support to LADOL.
"As some of you know, such a feat won't be possible if NCDMB hadn't insisted on it being possible. If Total had not taken the huge risk at a time nobody thought it was possible to support us to make it possible. We also want to thank NCDMB for providing us with financial support.
"So, this is a day of celebration however, we know that the work continues, and we promise everyone that LADOL will continue to work hard to meet our milestones and make sure that the 50,000 jobs directly and indirectly we hope will be and actually created and we see more capacity development across the country and perpetual employment for the Nigerians working here today".