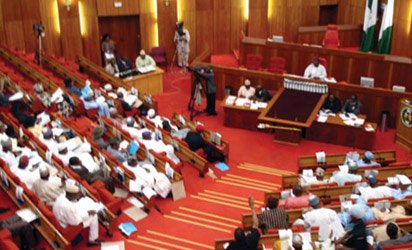 Oscarline Onwuemenyi
08 March 2018, Sweetcrude, Abuja – The Senate has issued an ultimatum to 256 Federal Government agencies and parastatals, including the Nigerian National Petroleum Corporation (NNPC) and the Ajaokuta Steel Company, to present reports of their audited accounts up to 2017 or have their 2018 budgets withheld.
It issued the ultimatum while considering the report of the Committee on Public Accounts on the 'Status of Compliance of Parastatals' Submission of Audited Accounts' at the plenary on Wednesday.
The Senate said only about 10 percent of the 491 bodies had presented reports of their audited reports to the Auditor-General of the Federation, as required by Section 85(3) of the Constitution.
To be affected by the deadline are 256 bodies that have not filed their reports in over two years or never at all; while 235 are either up to date or have arrears of two years and below.
In the report, the committee said 85 bodies had never submitted their reports since their creation.
Companies in this category include the Ajaokuta Steel Company, Ajaokuta, Kogi State; Bank of Agriculture, Kaduna; Bank of Industry, Abuja; Economic and Financial Crimes Commission, Abuja; Nigeria Football Federation, Abuja; and the Transmission Company of Nigeria, Abuja.
The report also said 47 bodies had fully complied, while those with arrears of between one and two years were 235; those between three and five years were 103; those between six and 10 years were 17; while those with 11-year arrears and above were four.
Most prominent among those who have arrears of more than two years are the Bureau of Public Enterprises (8), Bureau of Public Procurement (7), Debt Management Office (6), Federal Roads Maintenance Agency (7), Federal Mortgage Bank of Nigeria (6), Financial Reporting Council (6), and the Independent National Electoral Commission (6).
Other prominent ones with six-year arrears are the Nigerian National Petroleum Corporation, National Health Insurance Scheme, Nigerian Maritime Administration and Safety Agency, Nigerian Institute of International Affairs, National Insurance Commission, and the Nigerian Meteorological Agency.
Bodies like the Corporate Affairs Commission, Nigerian Ports Authority, National Pension Commission, National Bureau of Statistics, Securities and Exchange Commission also have between four and five years arrears.
Listing its findings, the committee said, "Many parastatals are unwilling to submit their audited accounts without being compelled and this is in violation of their establishment Acts. Some parastatals do not take accountability in public expenditure seriously.
"There are no prescribed penalties for offenders of non-timely submission of audited accounts. There are serious consequences for this offense in other climes."