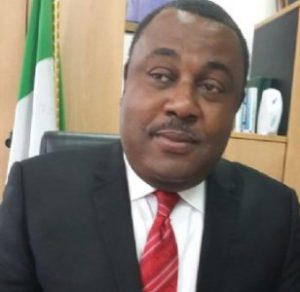 SAM IKEOTUONYE
09 March 2018, Sweetcrude, Enugu – A former chairman of the Council for the Regulation of Freight Forwarding in Nigeria, CRFFN, Mr. Tony Iju Nwabunike, has been elected the National President of the Association of Nigerian Licensed Customs Agents, ANLCA.
He will take over from the incumbent, Prince Olayiwola Shittu, whose two-term tenure is coming to an end.
To emerge the new ANLCA president, Nwabunike defeated the only other contestant, Mr. Emenike Nwokeoji, in an election held during the association's annual general meeting in Enugu. He polled 38 votes as against Nwokeoji's 35.
The new president would be working with other members of the new executive council, who emerged at the elections in Enugu. Dr. Kayode Farinto emerged vice president; Alhaji Mukaila Abdulazeez, national secretary; and Denis Okwu, assistant national secretary.
Hajia Bola Muse was elected national financial secretary; Dada Livinus Agubuzo, national treasurer; and Joe Sanni, national publicity secretary, among others.
Nwabunike, soon after his election, pledged to fulfill his campaign promises, working closely with other executive council members.
Prior to the elections, the new president had promised to join the Nigerian Shippers' Council, NSC, in moving against terminal operators over arbitrary charges.
Nwabunike also vowed to rescue clearing jobs from Customs officers and foreigners denying ANLCA members of their duty.
He revealed these in his manifesto in Lagos while promising to facilitate cordial engagement with Customs and relevant committees to attain equal benefit for clearing agents.
Nwabunike, who is also the former Chairman, Apapa Chapter of the association, also promised to standardise cargo clearing process and charges, encourage and facilitate members to team up to acquire Customs licenses.
He said: "The relationship between the Customs and the Customs brokers has been very cordial, there is bottleneck of multiplicity of agencies and some Custom units. The government has said it would look at them and merge them together and make sure they have one or two areas of Customs, where only generation of revenue would be monitored and not to have many tables as it use to be.
"Every leader comes with his own ideas and vision. The ideas of our out-going president is administrative idea, he has put in a good secretariat and put us on the limelight of the international organisation. He has done well in administration but I think something is lacking in operation.
"We have to do so many things in operation. If you look at the concessionaires, arbitrary charges is too much, the charges going on through the shipping company, the roads to Apapa is bad, welfare of the association has not been meet.
"Everybody is holding us to ransom, everything is collapsing, most importantly, our jobs have been taken away by foreigners and Customs. The Customs, government agencies have taken away our jobs, a quarantine is now a freight forwarder. A Customs, NAFDAC officer is a freight forwarder, even transporters are practicing customs brokerage".