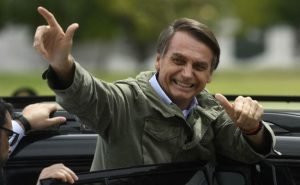 29 October 2018, News Wires — Far-right lawmaker Jair Bolsonaro won Brazil's presidential election on Sunday, promising to clean up politics, shrink the state and crack down on crime, in a dramatic swing away from the left in the world's fourth-largest democracy.
The former army captain has alarmed many with vows to sweep political opponents off the map and comments denigrating women, gays and racial minorities.
He will be the first president with a background in the armed forces since the end of Brazil's 1964-1985 military dictatorship, which he has publicly praised. He has tapped retired generals to serve as his vice president and run key ministries.