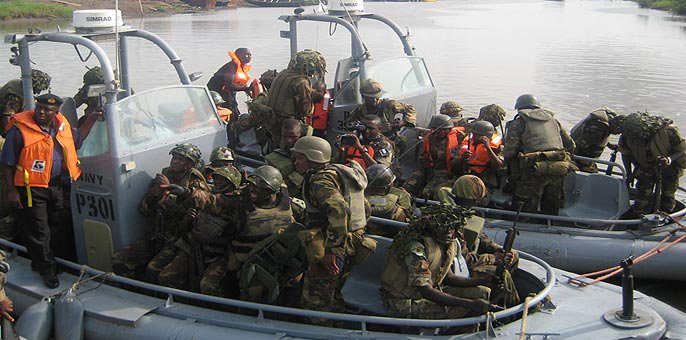 Mkpoikana Udoma
06 January 2019, Sweetcrude, Port Harcourt — The Joint Taskforce operating in the Niger Delta region, Operation Delta Safe, OPDS, has described as false the reports making the rounds that suspected militants have attacked an oil pipeline operated by Conoil Plc in Koluama-1 community, Bayelsa State.
Some online media outfits, not SweetCrude Reports, had reported that on Friday 4th January 2019 around 12:30 am there was a massive explosion from the location of Conoil exploration site near the Atlantic coastline in Koluoama 1, Southern Ijaw Local Government Area of the state.
Although the report did not attribute the attack to any militant group in the region but had insinuated that the attack was carried out by some aggrieved members of Koluoama community over the issue of a Memorandum of Understanding, MoU, with the oil firm.
But the Spokesman of OPDS (the Taskforce in charge of protecting oil infrastructures in the region) Major Ibrahim Abdullahi, described the report as a hoax created by mischief makers to misinform the public and cause panic.
Abdullahi told our correspondent that checks have been conducted by personnel of the Taskforce to verify the claim of attack by any militant group on the said oil facility and found no substance in it.
He called on members of the public to go about their normal business while urging media practitioners to always crosscheck their facts before rushing to the press to avoid publishing falsehood.
According to him, "I can confirm to you that there is nothing like that. Our men have carried out exhaustive verifications and we found out that no such incident happened.
"That report is just the handiwork of mischief makers to create panic, and I am certain no credible media outfit would publish such falsehood."
Similarly, a Community leader in Koluama 1 and Chairman, KEFFES Rural Development Board, Mr. Mathew Sele-Epri, said the report is false.
Sele-Epri said that the area has been peaceful since the new year with frequent patrols by the joint task force in Koluama area dominating the waterways.
"I am in Koluama 1 as we speak and there is no report of any attack on Conoil or any oil facility nearby, I did not hear any explosion noise neither did I hear anyone discuss it
"There was no such incident, like that, if it happened I should have known."