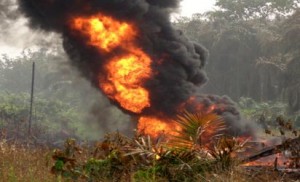 12 January 2012, Sweetctrude, Lagos – At least 10 suspected vandals were, Saturday, feared dead in an explosion that rocked the Nigerian National Petroleum Corporation,NNPC, pipeline at Arepo village, Owode, Ogun State.
The explosion came following a fire which was sparked off by some vandals who stormed the creeks by boat to siphon fuel from the NNPC pipeline.
Arepo was the scene of the killing of three NNPC officials by vandals last year. One of the survivors of Saturday's incident was said to have participated in the officials murder.
There were fears, that damage to the pipeline could worsen petrol scarcity as it supplies the product from Atlas Cove Jetty in Lagos to other South-West states.
Eyewitness account stated that the explosion came after an argument erupted between two of the vandals who were struggling to siphon fuel from the pipeline and it resulted into a heated argument that made one of them who was armed with a rifle to shoot indiscriminately into the air. Bullets from the rifle hit the ruptured pipeline and led to an explosion