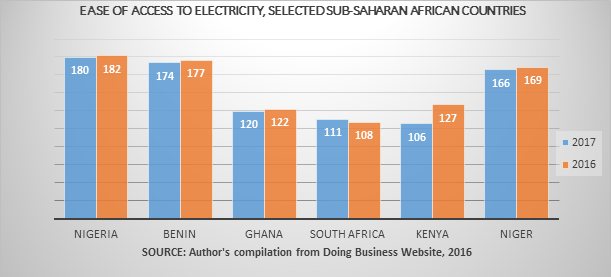 OpeOluwani Akintayo
02 February 2018, Sweetcrude, Lagos — One hundred million Nigerians have no access to grid electricity.
This was the submission of a June 2017 report, True Cost of Electricity: Comparison of Costs of Electricity Generation in Nigeria published by the Nigerian Economic Summit Group and Heinrich Böll Stiftung Nigeria.
As at 2016, Nigeria's population was estimated at 186 million.
According to the report lead-authored by Maria Yetano Roche and supported by Nnanna Ude and Ikenna Donald Ofoegbu, the figure represents 60% of the country's population.
Today's on-grid power generation capacity in Nigeria is dominated by natural gas power stations (86% of capacity) and three large hydropower plants (14% of capacity).
On the other hand, off-grid generation occurs almost exclusively through expensive and polluting diesel and petrol generators, of which there are an estimated 60 million in the country, according to National Data Corporation, 2016.
One hundred million means that less than half of the Nigerian population has access to electricity.
It is estimated that per capita electricity consumption in Nigeria currently at 151kWh per year, should be four to five times higher than the current level when considering latent and suppressed demand.
For comparison, the per capita electricity consumption of Ghana and South Africa are 3 and 30 times higher than Nigeria's, respectively.
As at December last year, World Bank's estimation puts over 80 million Nigerians as having no access to electricity.
The World Bank's 80 million December 2017 figure, was five million over its 75 million estimates as at February last year.