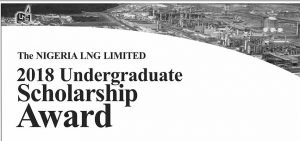 Mkpoikana Udoma
11 October 2018, Sweetcrude, Port Harcourt — A total of 12 students have benefited from the 2018 edition of the Nigerian Liquefied Natural Gas Company Limited, NLNG, post graduate scholarship awards.
The postgraduate category which commenced in 2012, has produced a total of 68 scholars who studied or are about to study at leading universities in the United Kingdom, while the undergraduate category has sponsored a total of 3000 students from various Nigerian universities since 1998.
Speaking at the first NLNG Scholars Day to commemorate scholarships and other education interventions, NLNG Deputy Managing Director, Mr. Sadeeq Mai Bornu, described the scheme as the biggest educational intervention.
Mai Bornu stated that education remains one of the key pillars of the company's corporate social responsibility and urged other organisations to emulate NLNG.
"The post graduate scheme started since 2012 and today 12 have been awarded bringing the total to 68. As parts of our vision in helping to build a better Nigeria, we are committed to invest in our youths, given the yearning and aspirations of the youths involvement in governance.
"We are rejigging our corporate social responsibility strategy and our stakeholders are very committed, because when people go to school and get star awards like these, they will make positive impact. We feel a lot has to be done and others should emulate NLNG," he said.
Asked if the star awardees, who just completed their studies in the UK with distinctions, would have automatic employment in NLNG, Bornu said, "We have a rigorous process for employment, normally as a company we advertise, but the star awardees will have the opportunity to apply because they are qualified, but whether we can make a consideration for that, we have to take it to the shareholders and the board."
Also speaking, the Rivers State Commissioner of Education, Mr Gogo Jaja, urged the benefitting students to utilize the opportunity judiciously.
Jaja, urged NLNG to continue with the goodwill and offer employment to the best brains as well as invest also in teachers in the state.
"One of the ways to check insecurity is educational investments. When you open the doors of a school, you shut the doors of prisons."
For her part, a 2016 NLNG postgraduate scholarship beneficiary, Miss Helen Jumbo, who just returned with her Masters Degree with a distinction in Energy and Environmental Laws from the University of Aberdeen, United Kingdom, commended NLNG for investing in her despite her challenge.
Jumbo, who is physically challenged, described the difference between studying in Nigeria and the UK as darkness and light, while appealing to NLNG to invest more on physically challenged students in the country.