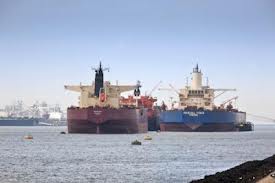 21 November 2012, Sweetcrude, Lagos – FIFTEEN ships are waiting to discharge petroleum products at the various oil terminals within the Lagos ports, the Nigerian Ports Authority, NPA, has said.
The NPA disclosed this in its daily publication, "Shipping Position'' made available to newsmen on Tuesday in Lagos.
It said that 11 out of the 15 ships would discharge petrol, two would discharge diesel and two other ships would discharge aviation fuel.
The document reported that one ship would berth with bulk wheat.
The document showed that 93 ships carrying different cargoes were expected to sail into the ports between Nov.19 and Dec.20
It said that that nine of the expected ships would arrive with petroleum products.
Other ships would sail in with containers, used and old vehicles, rice, general cargoes, bulk wheat, gypsum and petroleum products.
The NPA said that 19 ships were currently discharging fish, rice, base oil, bulk wheat and steel rail, among others.
The document also indicated that six ships were also discharging petrol.