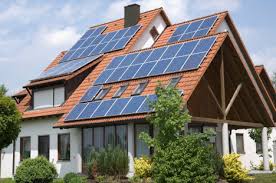 20 September 2016, Abuja – Solar Nigeria says it has given support to operators in the solar energy sector to provide solar power to 182,000 homes across the country from July 2015 to June this year.
In a statement made available to our correspondent in Abuja on Monday by the representative of Solar Nigeria, Charlie Knight, the organisation said 92,000 homes were covered in the first six months of this year, adding that more than 45,000 of the homes were located in the northern part of the country.
Knight said, "Businesses supported by Solar Nigeria provided more than 92,000 Nigerian homes with solar lighting or power systems between January and June 2016. More than 45,000 of these homes are located in northern Nigeria.
"All the systems were supplied on full commercial terms, with the householders paying cash, taking a loan, or renting the equipment. The systems include everything from single bright lamps to solar home systems able to power multiple lights, a television and fan.
"The result maintains the pace set in the first quarter of 2016, when 49,000 homes received solar lighting or power systems through the programme. It brings the total of homes equipped thanks to support from Solar Nigeria and its partner programme, Lighting Africa, to 182,000 since mid-2015."