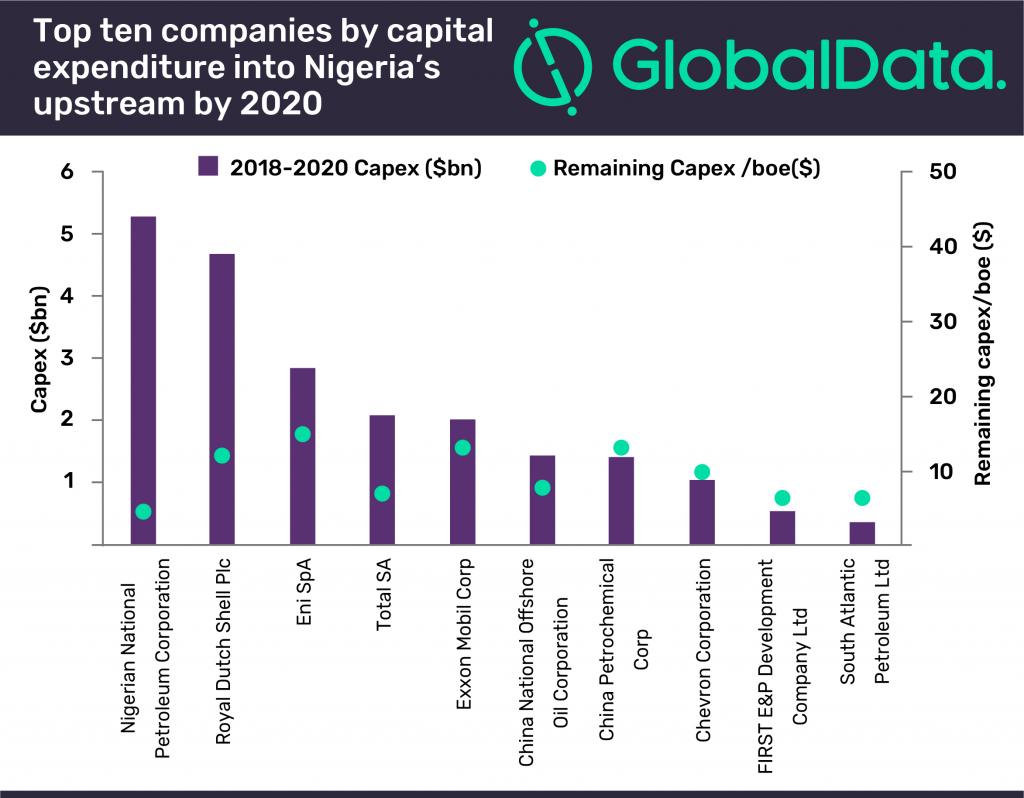 10 April 2018, Sweetcrude, Lagos — An average capital expenditure (CapEx) of $8.4bn per year will be spent on 249 oil and gas fields in Nigeria between 2018 and 2020. Capex into Nigeria's oil and gas projects will add up to $25.3bn over the three-year period in upstream CapEx by 2020, according to GlobalData, a leading data, and analytics company.
Ultra-deepwater projects will be responsible for over 28 percent of $25.3bn of upstream CapEx in Nigeria, or $7.2bn by 2020. The shallow water projects will account for 26 percent of upstream CapEx with $6.7bn by 2020, while deepwater and onshore projects will necessitate $6.0bn and $5.5bn respectively in CapEx over the period.
GlobalData expects that Nigerian National Petroleum Corporation will lead Nigeria in CapEx, investing $5.3bn into the country's upstream projects by 2020. Royal Dutch Shell Plc and Eni SpA will follow, with $4.7bn and $2.8bn respectively.
Zabazaba-Etan Project, a planned shallow water conventional oil field, will lead capital investment with $4.8bn to be spent between 2018 and 2020. Nigerian Agip Exploration Ltd. is the operator of the field. Owowo West, a conventional oil field in the Niger Delta Basin, will follow next with a CapEx of $1.8bn. Esso Exploration and Production Nigeria Limited is its operator.
GlobalData reports the average remaining CapEx per barrel of oil equivalent (boe) for Nigeria projects at $6.7. Ultra-deepwater projects have the highest remaining CapEx/boe at $11.20, followed by deepwater projects at $9.7. The shallow water and onshore projects have CapEx/boe at $7.0 and $3.3 respectively.