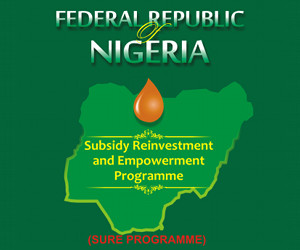 02 May 2013, Lagos – Lagos State coordinator of the National Directorate of Employment, Mr. Joseph Mordi, says over 3,000 youths are currently employed and benefiting under the Subsidy Reinvestment and Empowerment Programme, SURE-P.
Mordi, who spoke during surpervision of cleaning exercise at the Lagos Mainland centre of the scheme, said by July, 2,000 more would be deployed.
He said the SURE-P is also in charge of handling the implementation of the gains from the removed fuel subsidy.
"The SURE-P is set to render community services, women and youth empowerment projects and make youths know that they are important", he added.
According to Mordi, "thousands of youths who are not gainfully employed are placed on the SURE-P scheme and are given a stipend of N10,000 monthly for a period of 12 months till they can stay on there own."
Mordi said: "With this project, youths can now feel that government has not neglected them, they would feel the impact of government and they would be able to be independent."