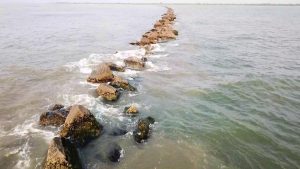 – Impairs port operations
– The vessels entered illegally – NPA
Vincent Toritseju
Lagos — Operations at the Delta ports, particularly the Warri Port is now hampered as six vessels have reportedly run aground at the Escravos Channel leading to the port.
Information available indicates that the incident occurred due to the damaged breakwaters and shallow depth of the Channel.
Speaking to Newsmen in Lagos, a local marine pilot, Captain Charlie Tobi, who confirmed the development said that the situation is getting worse each day.
Tobi also said that the last vessel, an oil tanker, that ran aground a few days back was still stock on the Channel as at the time of filling this report.
He stated: "Let us say that in the last one month, six vessels have run aground on the Escravos Channel, the last vessel that ran aground was a tanker named 'MT Nene.
Also, speaking on the incident, a former General Manager Marine and Operation at the Nigerian Ports Authority, NPA, Captain Ihenacho Ebubeogu, said Warri Port needs urgent attention to operate optimally.
Ebubeogu also said the channel has to be surveyed first before any repair can be carried out, noting that "one cannot cheat nature as it always fights back", investments apparent reference to the natural water current.
He said: 'The breakwaters must be repaired for that port to be functional optimally and I want to ask at what draft did the vessel ran aground.'
The General Manager, Marine and Operations, Nigerian Ports Authority, NPA, Captain Jerome Angywunwe who also confirmed the incidents, said that he is aware of the situation, but explained that most of the affected vessels are the ones that came into the Channel illegally without having a marine pilot onboard.
He, however, informed that the Channel has challenges and the NPA is working very hard to fix the submerged breakwaters and make the channel navigable.
Also speaking, Captain Tajudeen Alao, a member of the Warri Pilotage District, said that five, and not six, incidents were recorded in the last one month and attributed the situation to siltation into the Channel.
Alao explained that the Pilotage Board has not been officially communicated adding that rehabilitating the damaged breakwaters is capital intensive and the Federal Government through the NPA is working to ensure that the infrastructure is restored.
He however, stated: "I am on the Warri Pilotage Board, and we have not been informed of the incident. When you have incidents like this, the Pilotage Board will meet and look into it
"Having said that, Escravos Channel requires dredging and marker buoys. If precautions have been taken and the buoys are well marked, then the effect would have been on either human error or mechanical faults.
"The repair of the breakwater is long overdue because that breakwater has been in the condition for more than thirty years. The depth of the Channel should be more than its current 6.4 meters."
Follow us on twitter