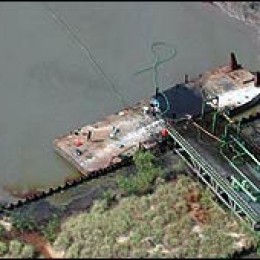 *N105 billion to theft of refined products
05 May 2013, Lagos –The Petroleum and Natural Gas Senior Staff Association of Nigeria, PENGASSAN has disclosed that the country loses $6 billion annually to crude oil theft, adding that another N105 billion is lost through theft of refined petroleum products.
PENGASSAN's President, Mr. Babatunde Ogun, made this known at a joint forum with the Nigeria Union of Petroleum and Natural Gas Workers (NUPENG) in Lagos.
"This is a threat to our national security and our democracy. If this kind of huge amount of money gets into the wrong hands, it can destabilise our democracy and national security," Ogun said.
He blamed the incessant loss of billions of money on vandalism of crude oil and petroleum products' pipeline.
He express regrets that security forces had been unable to arrest the unwholesome practice which led to fire disaster in Arepo and Ogun and the subsequent shut down of Nembe Creek Trunk line by Shell.
"An estimated 60,000 barrels per day of crude oil is stolen at Nembe Creek. Agip also suspended production in Bayelsa because 60 per cent of its production of about 90 barrels is stolen per day."
He said it was sad that no one had ever been caught or prosecuted even when the miscellaneous offence Act provides for life imprisonment for anyone who stole crude oil, petroleum product or vandalised pipelines.
He advised government to beef-up security and warned that the oil and gas sector would suspend production of crude oil and supply of petroleum products if nothing was done.
Ogun called on government to deal with the insecurity problem in view of the resurgence of kidnapping and continuous bombings.
The president urged governors and local government chairmen to channel their security votes to step-up intelligence gathering and surveillance to nip crime in the bud at the planning stage.
In a related development, an oil pipeline security outfit has said that surveillance on pipelines in the Niger Delta region will not be achieved when majority of the youths remain unemployed.
The Chief Executive Officer, Yaful Integrated Services, Mr. Luke Eneriene, made this known in an interview with the News Agency of Nigeria, NAN, in Port Harcourt.
Eneriene said that militancy and oil bunkering were crimes that should be handled in the same way.
"The same way amnesty was granted to stop the activities of militants, so will jobs be created for youths to stop bunkering in the region.
"Our duty as a company is to ensure total elimination of oil pipeline vandalism and bunkering, especially in some parts of the Niger Delta coast stipulated in our terms of contract.
*NAN