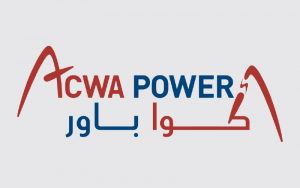 Riyadh, KSA — International Company for Water and Power Projects ("ACWA Power") or "the Company"), a leading developer, investor and operator of power generation and desalinated water plants worldwide, today announced its intention to proceed with an Initial Public Offering ("IPO" or "Offering") and list its shares on the Main Market of the Saudi Stock Exchange ("Tadawul" or "the Exchange").
The Capital Market Authority ("CMA") on 30 June 2021 approved the Company's application for the Initial Public Offering of 81,199,299 new ordinary shares, representing 11.1% of the Company's enlarged share capital. The final price at which all subscribers in the Offering will purchase Shares will be determined at the end of the book-building period.
Founded in Riyadh in 2004, ACWA Power is a leading private developer, owner and operator of long-term contracted power generation and desalinated water projects worldwide that continuously optimizes its portfolio. ACWA Power today has 64 projects in operation, construction or advanced development in 13 countries across three continents, with a total project cost of SAR 248 billion (USD 66 billion).
The Company's operational capacity across all markets currently provides 20.3 GW of electricity and 2.8 million m3 per day of desalinated water. Once existing projects under construction and in advanced development are completed and brought into operation within the next four years, the Company will double its operational power generation capacity to 41.6 GW and more than double its operational desalinated water production capacity to 6.4 million m3 per day. As a homegrown company, ACWA Power's portfolio in the Kingdom of Saudi Arabia, including assets currently under construction or in advanced development, represents an estimated 24% of Saudi Arabia's gross power generation capacity and 49% of the country's water desalination capacity. With a pioneering mindset and mastery of the most sophisticated technologies, the Company is focused on enabling and driving the energy transition through investment expansion in greenfield and/or brownfield projects in renewable energy and green hydrogen.