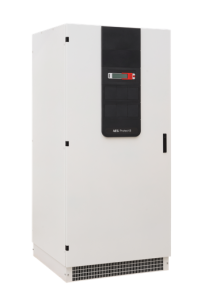 Zwanenburg, The Netherlands – AEG Power Solutions (AEG PS), global provider of power systems and solutions for all types of critical and sustainable applications, has introduced a new range of uninterruptible power supply (UPS) systems, which feature a full IGBT architecture and industrial-grade built quality to provide a safe power backup to protect refining & petrochemical industries, transportation infrastructures, manufacturing and other critical businesses against all power disturbances.
Protect 8 PLUS supports a standard three-phase input and is available as single-phase or three-phase output from 10 to 40 kVA, with 216 Vdc or 384 Vdc battery voltage. By the end of the year, it will also support 60 to 120 kVA in both configurations.
Thanks to its IGBT rectifier, the system offers a high input power factor of up to 0,99 and very low harmonic current rejection on the input side (THDi) which makes it a perfect fit in situations where the UPS is supplied by a generator set or to avoid harmonic perturbations of loads connected to the upstream busbar. This results in substantial savings on the sizing of the upstream network. The bi-directional rectifier also enables several battery capacity tests feeding back into the grid without using the bypass line, requiring additional load banks or affecting the load.
With the Protect 8 PLUS, AEG Power Solutions brings a new pre-charge system (patent filed) to the market, generates a very low inrush current of below 2 times the nominal current to optimize the upstream protection.
Protect 8 PLUS offers best in class performances with the built-in static bypass switch, offering a short-circuit capability of up to 1000 % for 50 ms, which is important for petroleum applications. On the inverter side it provides outstanding output short-circuit clearance when the bypass line is not available. This allows to selectively trip the faulty load and keeps the other lines working to ensure higher availability and safety for the load. Overall, the system achieves up to 90 % efficiency in double conversion operation with input and output galvanic isolation.
AEG Power Solutions has also improved the maintainability for easier and faster servicing. All important components like power stacks, control electronics and capacitors are accessible from the front and the fans can be replaced without switching off the unit.
Protect 8 PLUS features standard output galvanic isolation and n+1 fan redundancy and surpasses the latest JIP33 requirements from the International Association of Oil & Gas Producers (IOGP). This and the optional IP43 certified cabinet make it the solution of choice for harsh environments in heavy duty industries.
AEG Power Solutions
AEG Power Solutions is an independent international company and a global leader in power supply and conversion for industrial and renewable applications with distinctive expertise in AC and DC technologies. The portfolio comprises a wide range of reliable and tailored AC and DC UPS, battery chargers, rectifier systems and switch-mode power supplies to protect power for critical infrastructures. As a leading provider of power converters for Battery Energy Storage and rectifiers for Green Hydrogen production, AEG PS supports customers in the energy transition towards a more sustainable future. The company serves customers worldwide and is present in 14 countries.
Follow us on twitter