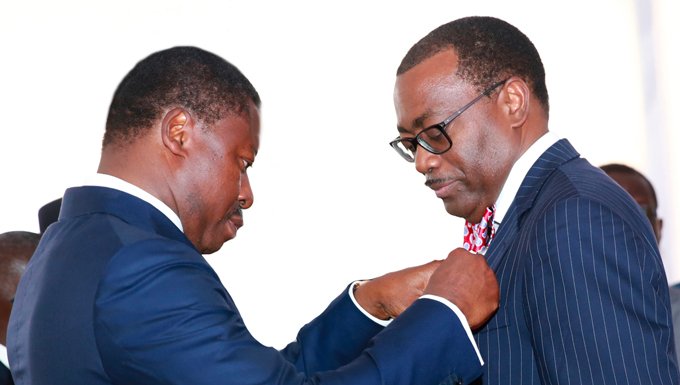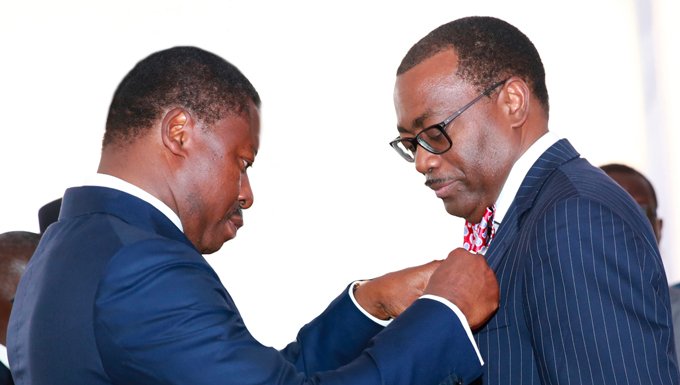 *Bank, Togolese Government launch initiative to provide 1 million farmers with access to credit
26 June 2018, Sweetcrude, Lomé, Togo – President of the African Development Bank, Akinwumi Adesina, has been honoured with the Commander of the Order of Mono− the highest civil honour of Togo.
The national honour, bestowed on personalities who have shown exceptional merit, was awarded by the Head of State of Togo, Faure Essozimna Gnassingbé, on the sidelines of a visit to Togo for the launch of the Mécanisme Indicatif de Financement Agricole (MIFA), a program aimed at improving farmers' access to finance.
Addressing participants at the ceremony, Adesina said: "Transforming agriculture is the key to reviving rural economies and turning them into new zones of economic prosperity. The MIFA initiative you are launching today is another building block in Togo's agricultural transformation strategy jointly developed by the African Development Bank and the Government of Togo, with the support of the Nigeria Incentive-Based Risk Sharing system for Agricultural Lending (NIRSAL)."
MIFA's goal is to reduce the risk of lending to agriculture and increase access to finance for farmers.
"When fully implemented, it is expected to rapidly increase bank lending to the agricultural sector, reduce interest rates, and reach 1 million farmers with access to credit in the next 3-5 years," Adesina explained.
In attendance at the event were President Gnassingbé and members of his cabinet, including Prime Minister Komi Selom Klassou, members of the diplomatic corps, the President of the International Fund for Agricultural Development (IFAD), Gilbert Fossoun Houngbo, NIRSAL CEO, Aliyu Hameed, as well as representatives from the private sector.
MIFA is based on Nigeria's successful experiences with NIRSAL, where it helped de-risk lending by commercial banks to agriculture.
According to IFAD President Houngbo, "innovation is critical to boosting the agricultural sector which remains a cornerstone for achieving the Sustainable Development Goals. MIFA is an innovative financial mechanism which will help support smallholders technically and financially".
Prime Minister Komi Selom Klassou, who launched the operational phase of MIFA, says agriculture accounts for 46% of Togo's GDP with vast growth potential. "This innovative instrument is a "relief" and pragmatic response to the problem faced by small farmers who receive low financial support because of high lending risks.
The African Development Bank has helped Togo implement AgriPME, a system that allows farmers to access fertilizer using their mobile phones.
In 2016/2017, more than 77,500 farmers, 38% of them women, received their fertilizers through the system. AgriPME has allowed the government to better target farmers and deliver subsidized farm inputs. AgriPME has also improved transparency, accountability and increased public spending efficiency. A total of 40,000 MT of fertilizer were provided to farmers, compared to 30,000 MT on average over the period 2009-2015, an increase of 45%. The system has also led to CFAF 3.5 billion in savings for the Government of Togo.
Since the beginning of its operations in Togo in 1972, the African Development Bank Group has approved 76 operations representing a total of USD 538.24 million.
The current portfolio comprises 13 transactions with a total net commitment of USD 297.80 million. It includes 10 domestic transactions valued at US $ 143.94 million, or 32% of the global envelope, and 3 multinational operations of US $ 153.86 million. Transport infrastructure represents 75.55% of the portfolio, followed by economic and financial governance (13.88%) and the social sector (8.77%). Agriculture, water and sanitation, energy, and the financial sector account for about 0.6% each.