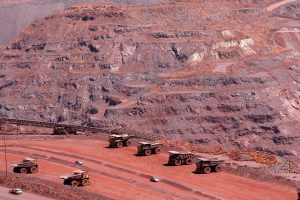 – Anglo iron ore unit's profit falls 17%
– Weaker prices, rail woes impact earnings
London — Anglo American's (AAL.L) South African iron ore unit said collaboration between private investors and government could help resolve mounting rail bottlenecks which are forcing it to stockpile more iron ore at its mines.
Kumba Iron Ore (KIOJ.J) said those stockpiles have grown to 7.9 million tons from 7.8 million tons as of December last year, forcing the company to cut back on mining activities and reduce its sales forecast.
Increased co-operation with the government through the National Logistics Crisis Committee could ease South Africa's rail problems, which include locomotive shortages and vandalism of infrastructure, Kumba CEO Mpumi Zikalala said.
Africa's top producer of the steelmaking ingredient hauls iron ore on an 861 kilometre (535 mile) rail line that runs from its giant Sishen mine in South Africa's Northern Cape province to Saldanha port.
Frequent disruptions on the line operated by state-owned rail and ports company Transnet (TRAN.UL) often caused by locust swarms have recently been worsened by cable thefts and derailments, forcing Kumba to stockpile more iron ore at the mines.
Kumba has "seen an increase in terms of the challenges" on the iron ore line, Zikalala said on a conference call.
"We have been collaborating with Transnet and we had some successes around tamping and locust spraying and a whole lot of other things," Zikalala said.
"But we have, at the same time, other challenges. I spoke about derailments and other breakdowns," she added.
The iron ore line also moves manganese and other minerals to South Africa's ports on the western coast.
South Africa's lack of rail capacity is also hurting earnings for miners such as Thungela Resources (TGAJ.J) and Exxaro Resources (EXXJ.J) that rely on Transnet's networks to move coal to ports on the east coast.
The issue is also a headwind for bulk shippers, which rely on domestic rail to export products, BofA Securities said.
"Given complex and deep-rooted issues with South Africa's rail network, we think that a more permanent solution could be unfruitful for some time yet," the BofA analysts said.
Kumba's profit in the six months through June declined 17% due to the rail challenges and softer prices. Still, Kumba's premium iron ore realized a price 4% above the benchmark price.
The company declared an interim dividend of 22.60 rand per share. Its shares were up 7.52% at 0919 GMT.
($1 = 17.6578 rand)
*Nelson Banya; Felix Njini, editing: Kim Coghill, Subhranshu Sahu & Jan Harvey – Reuters
Follow us on twitter