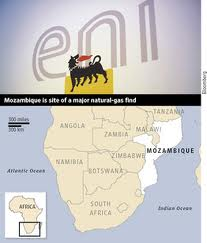 16 February 2012, Sweetcude, MAPUTO – Italian oil and gas giant, Eni, says it has encountered huge gas deposit at its Mamba North-1 prospect in Area 4, off Mozambique.
The Mamba North-1 encountered about 212.5 billion cubic metres of gas, at a total depth of 5,330 metres.
According to the company, the well produced about 1 million cubic metres of gas per day and small volumes of condensate during testing, but flow rates were constrained by surface facilities.
The well intersected a total of 186 metres of gas pay in multiple high quality Oligocene and Paleocene sands, the company further said.
Following the discovery at Mamba North-1, Eni said total volume of gas in place in the Mamba complex now stans at about 850 billion cubic metres.
Mamba North-1 is located in water depths of 1,690 metres, about 45 kilometres off the Capo Delgado coast and 23 kilometres north of the Mamba South-1 discovery.
Eni said it will drill five additional wells this year 2012 on nearby structures so as to assess the upside potential of the Mamba Complex.
While Eni holds a 70% share in Offshore Area 4, three other companies – Galp Energia, Kogas and ENH – hold 10% interest each.