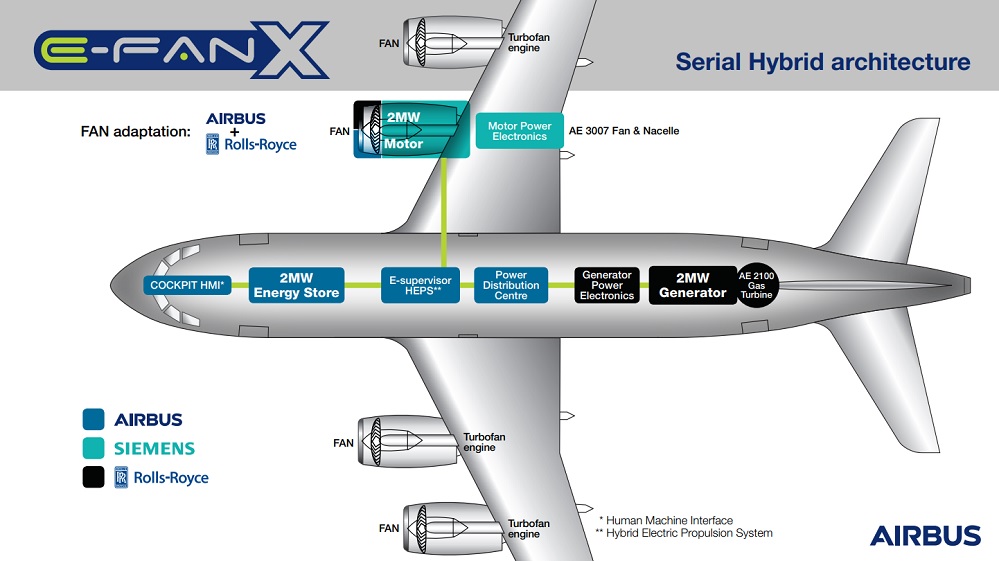 *Test flight scheduled for 2020
OpeOluwani Akintayo
28 November 2017, Sweetcrude, Lagos — Airbus, Rolls-Royce, and Siemens have partnered to build a 100-passenger plane powered by a hybrid-electric motor.
Named the E-Fan-X project, it will replace one of four gas turbine engines on a short-haul airline with the motor for a test flight by 2020.
If successful, a second gas turbine motor would be removed and replaced.
"We see hybrid-electric propulsion as a compelling technology for the future of aviation," said Paul Eremenko, Airbus' chief technology officer, in a press release Tuesday.
The next big step is for German manufacturer Siemens to develop a two-megawatt motor to take power from a new Rolls-Royce generator. The wattage is comparable to about seven times the peak output from a Tesla Model S, analysis on CNBC revealed.
Airbus has previously estimated that a regional short-haul plane able to carry around 100 people would need a combined power output of about 20 megawatts.
The European aircraft manufacturer said it is building on its small two-seater hybrid-electric plane, the E-Fan Plus, which debuted in summer 2016 at the EAA AirVenture Oshkosh air show in Wisconsin.
Plans to develop that jet for commercial use have been shelved as the ambition for electric flight has now been upped to include short-haul passenger aircraft.
The E-Fan X program will see Rolls-Royce develop the gas turbine engine and two-megawatt generator; Siemens will develop the two-megawatt electric motor under the wing; and Airbus will take responsibility for integration of the system, including how it works with flight controls.
The European Commission's environmental goals for the air transport industry by 2050 include a 75 percent reduction in carbon dioxide emissions, a 90 percent reduction in nitrogen oxides and a 65 percent drop in noise pollution.
The three companies said in a joint press release that these ambitions cannot be met by current technologies and that hybrid-electric propulsion is the most promising solution.