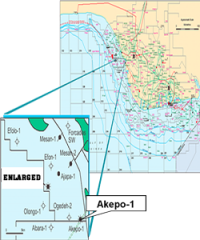 27 December 2012, Sweetcrude, London – Nigeria Agip Oil Company, NAOC, the joint venture of Eni, Conoco Phillips, and the Nigerian National Petroleum Corporation, NNPC, has commenced negotiations with Sogenal Oil and Gas, the operator of the Akepo field in Oil Mining Lease, OML 90, for an agreement to process and sell oil from the field.
The agreement will allow Sogenal to transport oil from Akepo into Agip's facility in Benigboye, near Warri in Delta state. Eni is then expected to sell the oil on behalf of Sogenal, and this is part of the ongoing discussion between Sogenal and Agip.
Sogenal has begun the engineering procurement contract to get oil from the well head to Agip's processing facility. The company has decided to construct a wellhead jacket, a 5 km onshore pipeline, and another 10 km offshore pipeline to its wellhead.
Earlier in the month, it was revealed that first oil from Akepo had to be pushed back to February 2013 because of issues with an incompetent indigenous contractor. This is the third delay: the data has already been shifted from May 2011 to May 2012, and then to November 2012.
An official of Sogenal said that even though the project is a sole risk, about 98 per cent of the company's contractors are indigenous, in keeping with the provisions of the Nigerian Content Act 2010 and the guidelines of the Nigerian Content Development and Monitoring Board, NCDMB – and this is proving to be a significant challenge.
Initial expected output is estimated at 2000 b/d and this is expected to grow to 10,000 b/d within the next three years.
Akepo was originally awarded to Chevron Nigeria under a joint venture with the NNPC before it was awarded to Sogenal under the federal government's marginal field licencing round.
Akepo is one of the six marginal fields that are currently producing or actively expecting production, out of 30 fields awarded in the marginal field bid round. Sogenal initially farmed out 30 per cent of its interest in the field to Oando and 10 per cent to Exile Resources but following Oando's recent buy-back of Exile, its stake has increased to 40 per cent. Sogenal retains 60 per cent and operatorship status.
*Menas associates