Mkpoikana Udoma
Port Harcourt — Akwa Ibom State Government has denied reports of of financial impropriety in the management of 13percent crude oil derivation arrears, released by President Muhammadu Buhari to the state.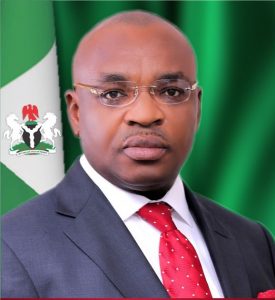 Recall that since Rivers State Governor Nyesom Wike disclosed that President Buhari approved the payment of 13percent crude oil derivation backlog from 1999 till 2022 to oil producing state governors, citizens have been asking their governors to give account of the funds.
Speaking, Akwa Ibom State Commissioner for Finance, Mr. Linus Nkan, announced that the 13percent derivation arrears was managed in compliance with statutory public finance management procedures.
Although Nkan did not disclose how much the state has received from the 13percent derivation arrears, he assured that there was no cause for alarm as details of the expenditure of the 13percent derivation arrears were available for public consumption.
The Commissioner who assured of Governor Udom Emmanuel's commitment to ensure judicious application of resources to provide for the needs of the people of the state, urged members of the public to discountenance figures and narratives peddled by those he described as detractors.
He added that with regulatory benchmarks such as the International Public Sector Accounting System, IPSAS, and the review of the state's budget and annual reports by the World Bank, it was impossible for any unaccounted expenditure to occur.
"In line with statutory public finance management procedures, the amounts accruing to and received by the state were duly reflected in the 2021 budget and the supplementary budget of the same year. In the current financial year, the expected refund from this subhead has been duly captured in the budget.
"Additionally, the Accountant General has declared without any ambiguity the sum which was received as refund from the 13% derivation arrears. Even the 2023 budget proposal currently undergoing legislative workings, has furthermore included the sum expected to be refunded. For the avoidance of doubt, the refund is reflected in these documents as "Other Exceptional income: 13% derivation revenue arrears."
Akwa Ibom State Government further said the leadership of Governor Udom Emmanuel has been transparent in the administration of the 13percent derivation arrears, which according to the Commissioner, has led stakeholders in the public finance space such as the Consul General of the United States committed to increased partnership with the state.
Follow us on twitter