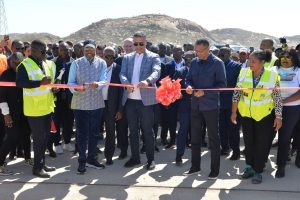 Oritsegbubemi Omatseyin
Lagos — The Angolan government officials have inaugurated the first phase of the 50MW Caraculo solar PV project.
Among the attending officials were Diamantino Azevedo, Minister of Mineral Resources, Oil and Gas, and João Baptista Borges of Energy and Water.
The project was developed in partnership with the Angolan government by Solenova, a joint venture equally owned by Angolan energy giant Sonangol and Azule Energy – owned by Eni and BP. Solenova was established to develop renewable energy projects.
The plant is located in Caraculo, in the Bibala municipality of the Namibe province, about 60km from the provincial capital of Moçâmedes. The Caraculo solar PV project is the first private-public partnership solar project in the country.
According to Solenova's statement, the capacity of the first phase is 25MW. Its development comprised the installation of 46,000 solar panels with 98 distributed inverters connected to 4 power stations, and the construction of a 60kV Gas Isolated Substation (GIS) connected to the country's Southern Transmission Network.
The plant will reduce the domestic and industrial diesel consumption in the country's southern cities by about 18 million liters per year. Solenova estimates that the plant will produce 59GWh in its first year of operation, enough to power 12,000 homes.
The engineering procurement and construction (EPC) contractor for the project was the Italian multinational company Saipem. The plant was completed ahead of schedule as construction commenced in June 2022. Solenova says that it expects to commence the second phase soon.
According to The International Renewable Energy Agency (IRENA), in 2021, only 50 percent of Angolans have electricity access. The country's available generation capacity is 4.5GW, of which the US International Trade Administration estimates that 68 percent is provided by hydropower sources and 31.3 percent from fossil fuels.
The government of Angola has lofty energy transition targets and has announced plans to increase its clean energy capacity. At COP26 in Glasgow, President João Lourenço stated that the government will increase renewable energy contribution to the electricity mix to 70% by 2025.
Last year, the state-owned energy company Sonangol began its diversification. Within the next decade, it aims to transform from a strictly oil and gas company to an energy company. The company is also partnering with TotalEnergies to deploy another solar PV plant in the Quilemba region. The first phase of the plant will involve the construction of a 35MW plant with a subsequent addition of 45MW to bring the total capacity to 80MW.
The company is also looking to become a major green hydrogen supplier. Last June, it signed letters of intent with 2 German engineering firms for the construction of a green ammonia production factory.
Follow us on twitter