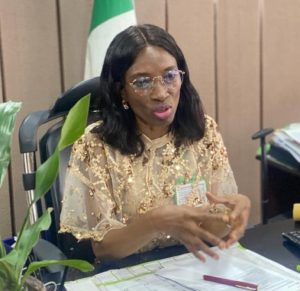 – We will leverage on her achievement – New Port Manager
Vincent Toritseju
Lagos — The outgoing Port Manager, Lagos Port Complex, LPC, of the Nigerian Ports Authority, NPA, Mrs. Funmi Olotu has said that the most challenging situation she faced in the course of discharging her duties was the port access roads saying that the ports are efficient and effective in terms of cargo evacuation.
Speaking to SweetcrudeReports during a send-forth held in her honour by the Christian Fellowship of the Port, Olotu said that importers were able to evacuate cargoes from the port as at when due, but the road became a major challenge the complex was faced with.
Olotu also said that there is a higher concentration of cargo evacuation by road than rail and water adding that with steady use of barges for cargo evacuation, there will be less use of the road.
She stated: "The only challenge I had was actually the port access roads, yes, that was a major challenge for because the port is as efficient and effective as we are able to evacuate cargoes from the ports.
"For now we have a higher concentration of road evacuation over and above rail and water but if the waterways being put in shape, I am sure the incoming management will evacuate cargoes through the water.
"I have been in Lagos ports, as Assistant General Manager Tariffs and Billings, I will be overseeing all revenue related activities across all locations in the country and reporting straight to my General Manager.
"They know I am going to call for the books and see if things are being done the right way and I will keep looking for ways to ensure that the Federal Government is in no way short changed.
"I am fulfilled, I do not have any regrets because I have mentored a lot of people and I know they will sustain the legacies I am leaving behind. I feel excited going knowing fully well that those were well equipped and prepared to do the right thing always''.
Speaking in similar vein, the incoming Port Manager, Mr. Charles Ogaga, said that he is well prepared to continue with the legacies of his predecessor adding that he will work with team that Olotu succeed.
He expressed concern over the decaying port infrastructure adding that this could be his greatest challenge.
"As you know, administration is continuum, the good thing is that she is not going with the team that worked with here and we will leverage on the experience of that team to continue from where she stopped.
"What I will call the greatest challenge is that you know this is an aging port, so you will always have infrastructural deficit and all we need to do is to identify these gaps and start looking for how to find solutions to them," Ogaga said.
Follow us on twitter