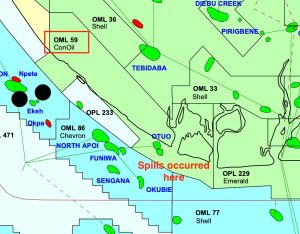 – One feared dead as
Mkpoikana Udoma
Port Harcourt — One person has been feared killed during a peaceful protest by youths of Sangana community in Brass Local Government Area of Bayelsa State, at an oil platform within OML59, operated by Conoil Producing Ltd. in the area.
SweetCrude Reports gathered that armed security personnel attached to the offshore facility christened "Antie Julie" operated by Conoil, opened fire on the protesting youths when they approached the facility to demand the implementation of the Memorandum of Understanding, between Conoil and Sangana community.
The deceased youth, Ikiowori Benson, who was hit by a gunshot lost his life while two persons in the team of community youths are still missing and others critically injured after the incident, which reportedly happened yesterday.
Speaking on the development, Youth Leader of Sangana Community, Mr. Ambrose Timipre-Ayah, said that he and 10 other youths from the community approached Conoil facility unarmed, with the sole aim of registering their displeasure with the company.
Timipre-Ayah, said he was shocked when the armed security operatives opened fire on them, killing one person instantly, two missing and another two persons receiving treatment at Federal Medical Centre, Yenagoa.
Also speaking, Chairman, Community Development Committee of Sangana, Mr Rueben Preboye, noted that while Conoil has been operating in the community for about 25 years, the company has been delaying the implementation of the MoU.
According to him, the MoU lasts for three years subject to renewal, noting that the 2013, 2016, 2019 and 2022 MoUs have not been implemented and accumulated over N300million cahs and N420-million worth of projects.
Preboye regretted that he had the same issue with Conoil when he was the youth leader of the community in 2010.
Meanwhile, the Community Relations Manager of Conoil, Mr. Richard Adebayo, when contacted declined to comment on the incident.
Similarly, the Spokesperson of the joint military task force deployed to protect of facilities in the Niger Delta, Operation Delta Safe, Major Adenegan Ojo, could not be reached by telephone and has yet to respond to sms requesting reaction.
Follow us on twitter