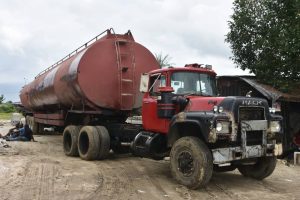 Mkpoikana Udoma
Port Harcourt — The Nigerian Army has uncovered an illegal crude oil tapping point on pipeline operated by the Shell Petroleum Development Company of Nigeria, SPDC in Aluu, Ikwerre Local Government Area of Rivers State.
The illegal tapping point which is an open space along Port Harcourt Airport Road, according to the Nigerian Army, was uncovered following a tipoff, after suspected oil thieves dug the pipeline and attached illegal pipes using a pumping machine to siphon crude into a waiting 45,00litres petrol truck.
Speaking, the Commander, Nigerian Army 6 Division Garrison, Brig. Gen. Eddie Effiong, said the operator of the pipeline (SPDC) has been notified to clamp the theft point, while three suspects caught in the have been arrested.
Effiong while speaking to newsmen at the SPDC pipeline right of way, assured that further investigations will be made to unravel the collaborators, after which the truck and the illegal product will be destroyed to serve as a deterrent.
He advised members of the public, especially the youths to shun all forms of criminalities such as oil theft and illegal oil bunkering activities, warning that the military will not rest on its oars in fishing out every criminal to face the full wrath of the law.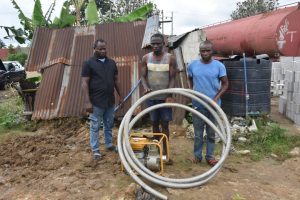 He said, "On the early hours of Saturday around 2:30am, we got information that illegal oil bunkering activities was ongoing in this area and so we sent out troops to investigate, which led into arresting this 45,000 litres capacity tanker by the SPDC pipeline right of way.
"They (suspects) bore a hole and drilled the crude with a pumping machine. The three suspects have been arrested, together with the product and equipment they've used in the illegal activities.
"The operators of the pipeline (Shell) have been notified, infact, they have even clamped the line already, else you would have seen crude oil spill everywhere right now. The next action is, since we have gotten the suspects, the law is going to take it cause.
"Investigation is going to be carried out in order to know because these people here may just be the work men, so we going to find out, to get to the root of this after which everything will be destroyed," the Army Commander said.
Follow us on twitter