25 August 2015, Lagos – With the US crude oil price falling to almost $40 per barrel last week, their lowest since the global financial crisis of 2009, producers have continued to count their losses as the likelihood of a further drop to $20 looms. Ejiofor Alike reports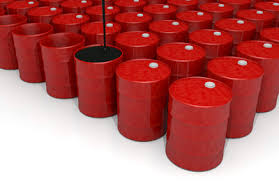 The unprecedented shock in the global crude oil market has no doubt forced the producers to scale down on investments and right-size their workforce in the face of weak balance sheets     .
Brent, which was sold for $115 per barrel in June 2014, later dropped to an all-time low of $45.19 in January this year and $46.41 last week.
The prices had initially surged earlier in the year, fueling speculations of imminent recovery, but they later witnessed a fresh downward slide.
For instance, in early February, the prices rose consecutively for a third day to the $53 a barrel range, as the month's World Oil Outlook report by the Organisation of Oil Exporting Countries (OPEC), predicted that Canada's oil output would grow more slowly than expected because of lower oil prices.
Despite this surge in the prices, Citibank predicted that the price would eventually drop to $20 per barrel.
The leading global bank said in one of its reports that the surge in oil prices was just a "head-fake," implying that though the oil market appeared to be moving in one particular direction, it would end up moving in the opposite direction.
Citibank predicted that crude oil as cheap as $20 per barrel might soon be underway.
According to the bank, despite global declines in spending that drove up oil prices in those weeks, oil production in the United States was still rising.
While Brazil and Russia were pumping oil at record levels, Saudi Arabia, Iraq and Iran were fighting to maintain their market share by cutting prices to Asia.
With the market obviously oversupplied, Citibank noted that a pullback in production would not be likely until the third quarter of this year.
Citibank further wrote that West Texas Intermediate Crude, which then traded at around $52 a barrel, could fall to the $20 range for a while.
According to bank, the shale oil revolution of the United States had broken OPEC's ability to manipulate prices and maximise profits for producing countries.
The leading global bank further argued that $20 per barrel oil would be the end of OPEC.
"It looks exceedingly unlikely for OPEC to return to its old way of doing business," said the report.
In the report, Citigroup further reduced its annual forecast for Brent crude for the second time in 2015.
According to the report, prices in the $45-$55 range were not sustainable and would discourage investment, while prices would surge to $75 per barrel in the fourth-quarter.
The report, however, added that prices would likely average $54 per barrel this year.
In one of its report this year, OPEC had blamed the US shale oil and Canadian oilsands crude for boosting oil output worldwide and creating oversupply in the market.
"On the supply side, the primary driver of recent non-OPEC output growth has been the U.S. and Canada. Most of the recent increases have been due to oil from tight crude and unconventional natural gas liquids, as well as oilsands development," OPEC said.
It is predicted that Canada's oil output will average 4.35 million barrels a day in 2015, which is 20,000 barrels lower than OPEC's earlier prediction.
Weak balance sheets
Though the US crude oil price was yet to slump to $20 as predicted by the global bank, it fell to almost $40 per barrel last week, their lowest since the global financial crisis of 2009.
This slump was fuelled by the rise in supplies in North America and the Middle East, which filled stockpiles to record levels.
US crude oil, also known as West Texas Intermediate or WTI, was down 50 cents at $40.30 a barrel, while Brent crude futures, the global oil benchmark, were down 75 cents at $46.41.
However, the low price of Brent was still higher than the 2015 low of $45.19 traded in January.
US crude inventories rose by 2.6 million barrels last week to 456.21 million barrels, according to recent report by the government's Energy Information Administration (EIA).
The oversupply in the oil market has painted a gloomy picture and worsened the financial losses suffered by the producers, who have been struggling with weak balance sheets, spending cuts and poor financial results.
The negative market returns from costly investments made at a time of high oil price have adversely affected capital and operating expenditures.
The poor performance of these companies has also raised concerns on their short to medium term financial health.
With huge debt overhang, the plummeting prices of crude oil have indeed diminished the capacity of the world's biggest energy companies to meet their financial obligations to stakeholders.
Chevron Corporation posted abysmally poor results in second quarter 2015 with net income down to $571 million from the $5.7 billion recorded in the second quarter of 2014.
The company reported earnings of $571 million ($0.30 per share – diluted) for second quarter 2015, compared with earnings of $5.7 billion ($2.98 per share – diluted) in the 2014 second quarter.
The company blamed its poor performance on the 50 per cent drop in the prices of crude oil since June 2014.
According to the results, sales and other operating revenues in second quarter 2015 were $37 billion, compared to $56 billion in the year-ago period.
"Second quarter financial results were weak, reflecting a crude price decline of nearly 50 percent from a year ago. Our Upstream businesses were particularly hard hit, as lower prices reduced revenues and triggered impairments and other charges. Downstream operations continued to deliver strong financial performance, reflecting both high reliability and improved margins," said Chairman and CEO John Watson.
World's biggest publicly-traded oil company,  ExxonMobil, recorded second quarter 2015 earnings of $4.2 billion, representing more than 50 per cent slump in the company's $8.8 billion earnings a year ago.
The company's upstream earnings were $2.0 billion, down by $5.9 billion from the second quarter of 2014.
Italy's Eni posted 84 per cent profit drop in its second quarter results, with its oil and gas contractor unit, Saipem booking $1 billion in write-downs following a plunge in crude prices.
BP Plc reported the lowest quarterly profit in at least 10 years after the Libyan unrest forced almost $600 million of write-downs.
Royal Dutch Shell's second quarter 2015 earnings were $3.8 billion compared to $6.1 billion in the second quarter 2014.
The international oil companies (IOCs) operating in Nigeria and the Nigerian independents are also hit by the slump in the international prices of crude oil, as their problems are compounded by an operating environment characterised by the non-passage of the Petroleum Industry Bill (PIB), and the failure of the Nigerian National Petroleum Corporation (NNPC) to provide its cash calls for joint venture projects even during the period of high oil price regime.
Other problems that are peculiar to the Nigerian environment, which compounded the effects of the low price regime on the players, include long contracting cycles; lack of clarity of terms; insecurity and a record high cost of doing business.
Industry response
Many small players in Nigeria rode on the wave of high oil prices to float operations and embark on massive acquisitions based on $100 oil.
But with the slump in prices, their financial performance outlook is frightening as the oil price burst combine with a plethora of other problems in the operating environment fuelled negative balance sheets.
With weak balance sheets, oil companies both in Nigeria and globally, have been forced to scale down on investments, and slash their budgets.
The Chief Executive Officer of Seplat Petroleum Development Company Plc, Mr. Austin Avuru had told THISDAY that though Seplat did not cut jobs, the drop in the oil prices forced the company to be more prudent in the deployment of human resources.
"So, we have to task our staff a little more without having to cut jobs. But certainly we are cutting down on both our OPEX (operation expenditure) and CAPEX (capital expenditure)," he said.
"Whenever you see a sharp fall in prices, a few things happen almost immediately, especially with companies that are properly run. Companies that are properly run will tend to take another look at their work programme and cut the work programme to a size that fits what their overall revenue will be in the light of diminished oil prices. So, that is why you have, across the world, companies, whether it is Total, Shell, Mobil – they are all cutting their CAPEX outlay. For us, we are doing exactly the same thing. So, we have slashed our capital spend considerably. We have been at growth phase since 2010. Our capital spend has been quite huge during these past four years. To put it in context, the total spend on these three blocks in the 10 years before we took over amounted to not more than $40 million each year. Our total spend as a joint venture for 2014 was in excess of $800 million; just to tell you the kind of investment we have been making in the four years get to where we are. So, now the current realities of the low oil price are such that we had to cut down on both our OPEX and then our CAPEX. As I said a little earlier in another forum, some companies are even cutting jobs; we are not cutting jobs; we are just a lot more prudent in our deployment of human resources," Avuru had explained.
"So, anytime you see the kind of sharp dip that we saw recently, just as we did in 2008/2009; it was exactly like this. There is a sharp dip from $147 in 2008 to $42 or $46. When you see a sharp slump like that the reaction such I have just explained, will follow – a rash of reductions in CAPEX spend and you know that future production will come from today's CAPEX spend. So, when you see a rash of reductions in CAPEX spend today, it can only mean that production profile that is anticipated in the future will no longer be sustained, which means that at a certain point in the future, you are going to see an imbalance in production, which is supply and demand. So, in turn, that imbalance will lead to another rise in prices. This is no difference. The price went low, that is, it bottomed out and with all these rash of reductions in CAPEX spend, you are going to see a recovery of the price.  How far up it will go, I cannot predict, okay. If you see a spike that goes too high as you saw in 2008 at $147, it is also going to self-correct. So, my view is that overall, in the next four years, for instance, between now and 2019, we will still be in that overall average of about $80 per barrel," Avuru further explained.
The Chairman and Chief Executive Officer of International Energy Services Limited, Dr. Diran Fawibe had also told THISDAY that the slump in oil prices would delay a number of projects, while the companies would assess how it would affect existing projects.
"We know that the drop in oil price will not last forever. But we know that many companies, especially major companies have been cancelling some projects; have been postponing some projects. Don't forget that Nigeria is part of a global group. Take Shell for example, Shell Companies in Nigeria are part of the global Shell. The same thing goes with Chevron, Total and others. So, if the companies globally are reducing the size of their operations in response to the decline in the price of crude oil, yes, of course, you will expect that they will look at it country by country and see how it will affect their business in that country. It is not in all cases that all the projects that have already been planned would be executed. Already a quite number of the companies are asking the contractors to cut back or reduce the cost, even on projects that are ongoing – not just projects that are about to start. All these things are having disruptive effects on the operations of the industry, and of course, the service companies that normally take jobs from these companies," Fawibe had explained.
"So, that is the current situation; everybody is currently, nervous as to what will happen. Some of the companies are cutting back on the jobs and the service companies will equally be doing so because if you don't have any job, you cannot keep your workforce when they are not doing anything. When you don't have the money to be paying them, it is not a good thing that they are coming to work every day but have nothing do. That is the challenge most companies are facing," Fawibe added.
A recent frightening report by the London-based Financial Times (FT) showed that for smaller oil firms, better known as independents, to survive, a new wave of industry consolidation is inevitable, as they struggle to remain afloat.
The report brought to the fore the need for the Central Bank of Nigeria (CBN) and Nigerian Deposit Insurance Corporation (NDIC) to undertake another stress test on Nigerian banks.
These banks are known to have lent heavily to several local firms during their acquisition spree of oil assets sold by the international oil companies (IOCs).
THISDAY gathered that the assets were obviously overpriced because of the then $100 per barrel oil, which guaranteed huge returns on investment.
FT noted that dozens of small oil companies are limping along, labouring under heavy debts and dwindling cash flows.
The oversupply in the market was worsened by OPEC's decision last November not to cut output, despite a US supply glut and weaker than expected demand in Asia.
The drop has also inflicted massive pain on oil exporting countries, widening budget deficits and weakening currencies.
Energy companies reportedly laid off an estimated 70,000 workers and scrapped projects worth billions of dollars, especially in high-cost areas such as Canada's oil sands and the deepwater fields of the Gulf of Mexico.
The low oil price regime drove Royal Dutch Shell's $55 billion takeover of smaller rival BG Group, and triggered the fall of Nigeria-focused United Kingdom-listed oil explorer Afren, which entered administration last month.
Seplat recently withdrew its bid to acquire Afren, following the weak state of the UK-listed firm, which was exposed by the weak oil market.
The Midwestern Oil and Gas Limited had also delayed its plan to acquire Toronto-listed Mart Resources as the slump in oil price weakened its capacity to raise funding for the acquisition.
Midwestern had initially agreed to use reasonable commercial efforts to satisfy the financing condition on or prior to June 15, 2015 but recently informed Mart that it could not complete the financing as scheduled.
It is expected that the Nigerian firm will use the opportunity of the ongoing negotiation to bargain for a lower bid price for the Canadian firm, which has since been hit by the low price regime.
Renaissance Capital said in a report last Tuesday that the negotiations might result in a new bid at a lower price, which would represent a potential upside risk to  investment.
According to the report, as at June 30, 2015, Mart had a total amount of debt outstanding of $200.5 million from Guarantee Trust Bank (GTB).
After considering the deferred principal repayments during the moratorium period, Renaissance said the loan amount due before June 2016 is $45 million, while the loan outstanding due after June 2016 is $154 million.
The report noted that if oil prices and Mart's production do not pick up in 2016, Mart may struggle to meet its 2016 loan obligations.
Midwestern Oil and Gas Company Limited is the operator of and one of Mart's co-venturers in Nigeria's Umusadege oilfield.
With this ugly scenario, it is increasingly evident that the energy industry is suffering the biggest financial shock as the threat of protracted oversupply occasioned by flood of unconventional oil, coupled with declining demand has continued to create glut in the international market.
– This Day