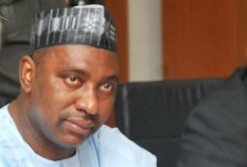 *May introduce further measures as prices slides deeper
Oscarline Onwuemenyi

20 November 2014, Sweetcrude, ABUJA – The Federal government has expressed the hope that the crude oil market recently hit by falling prices would soon record a rebound.
The Minister of State for Finance, Amb. Bashir Yuguda, who stated this at the background of the Federation Accounts Allocation Committee, FAAC, meeting in Abuja, however noted that the Federal Government's scenario-based response is designed to shield the economy from the shocks of declining oil revenues.
The Organisation of Petroleum Exporting Countries, OPEC, which is responsible for about 40 percent of global oil supply, is set to meet next week in Vienna to discuss output and the issue of falling prices.
"We believe that very soon the prices of oil will go up again," Yuguda said, adding that OPEC members are already holding preliminary meetings among themselves as a means of co-ordinating action to defend the oil market.
According to a statement issued by the Minister's Special Adviser Media, Mr Ikechukwu Eze, the Minister noted that the revised 73 dollars per barrel benchmark proposed to the National Assembly for the 2015 budget was part of the scenario-based response to falling oil prices, stressing that, "further measures may be introduced if oil prices continue to slide deeply."
Yuguda maintained that the growth drivers such as agriculture, infrastructure and housing will continue to be strengthened as part of government's efforts to protect growth and keep the economy on a stable path during this period.
"Non-oil revenues will be broadly enhanced while there will be a renewed focus on prudent spending," the Minister posited.
He stated further that both the Federal and State Governments were adopting proactive measures in the prudent management of resources, adding that the various levels of government had agreed to work together in dealing with the challenge of falling oil price.