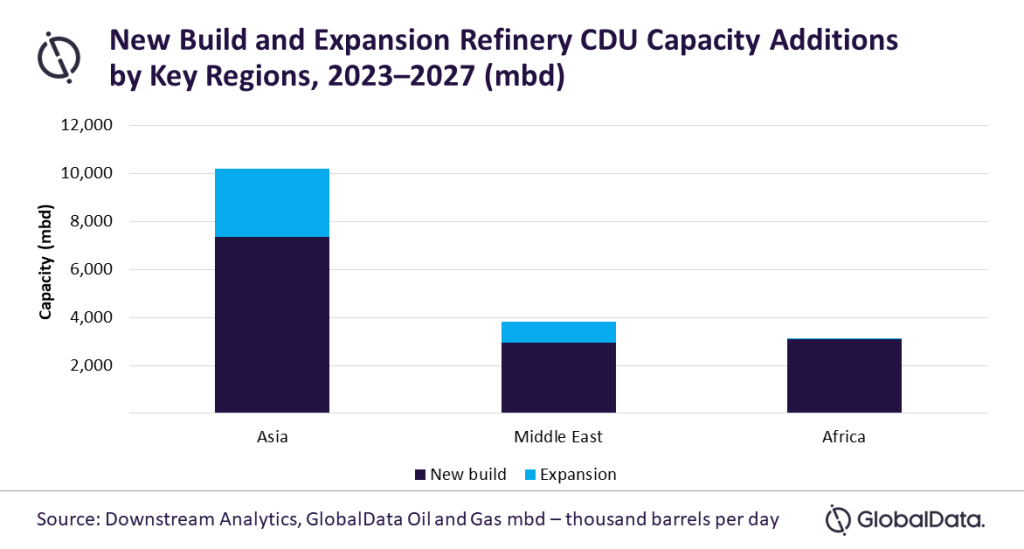 Lagos — Asia is set to witness the highest crude distillation unit (CDU) capacity additions globally, contributing about 52% of the total global CDU capacity additions by 2027, says GlobalData, a leading data and analytics company.
GlobalData's report, "Refineries Capacity and Capital Expenditure (CapEx) Forecast by Region, Countries and Companies including details of New Build and Expansion (Announcements and Cancellations) Projects, 2023-2027," reveals that Asia is likely to witness a total CDU capacity addition of 10.2 million barrels per day (mmbd) by 2027. Of this, the new build capacity would be 7.3 mmbd, while the remaining is from the expansion of existing refineries.
Bhargavi Gandham, Oil and Gas Analyst at GlobalData, comments: "The refinery CDU capacity additions in Asia will be primarily driven by China and India. Economic growth, the ever-growing demand for petroleum products, especially from the transportation sector, and expanding petrochemicals sector are driving capacity additions in these countries."
Hambantota III in Sri Lanka, with a capacity of 420 thousand barrels per day (mbd), is the largest upcoming CDU refinery in Asia during the 2023 to 2027 outlook period. It is expected to start its operations in 2027.
GlobalData identifies the Middle East as the second highest contributor to the global CDU capacity additions accounting for about 20% of the total additions by 2027. Among the upcoming CDU projects in the region, Ras Al-Khair in Saudi Arabia leads with a CDU capacity of 400 mbd by 2027. It is followed by Basra II, Duqm IV, and Bandar Jask, with a CDU capacity of 300 mbd each.
Africa ranks third contributing about 16% of the world's total CDU capacity additions during the outlook period. The Lagos I refinery in Nigeria leads in terms of upcoming CDU capacity with 650 mbd. Port Sudan III, Akwa Ibom III, and Lobito, with a capacity of 200 mbd each, are the other key upcoming CDU refineries in the region.
Follow us on twitter