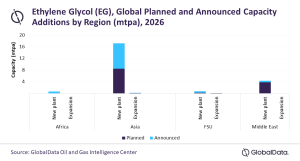 Lagos — Asia is set to lead the global ethylene glycol (EG) industry capacity additions with a share of 75% by 2026 from new-build and expansion projects between 2022 and 2026, forecasts GlobalData, a leading data and analytics company.
GlobalData's latest report "Ethylene Glycol (EG) Industry Installed Capacity and Capital Expenditure (CapEx) Forecast by Region and Countries including details of All Active Plants, Planned and Announced Projects, 2022-2026," reveals that the total EG capacity of new-build and expansion projects in Asia is expected to reach 17.40 million tonnes per annum (mtpa) by 2026. The capacity additions will be driven by an increase in EG consumption due to a growth in demand for polyester fibres, polyethylene terephthalate (PET) resin, and anti-freeze and bio-based variants of different products.
Nivedita Roy, Oil and Gas Analyst at GlobalData, comments: "Asia is expected to add a capacity of 17.22 mtpa from 21 new build planned and announced projects, whereas three planned and announced expansion projects are anticipated to add a capacity of 0.18 mtpa in the region."
India and China are the major countries in Asia in terms of EG capacity additions. The main capacity addition in India would be from an announced project, Reliance Industries Jamnagar Ethylene Glycol (EG) Plant 2 with a capacity of 4.5 mtpa. It is expected to commence production of EG in 2025.
Nivedita concludes: "In China, the capacity additions are from two planned projects that include Jiaxing Sanjiang Petrochemical Company Jiaxing Ethylene Glycol Plant 2 and Jiutai Energy Inner Mongolia Company Ordos Barun Gar Domda Ethylene Glycol Plant, with a capacity of 1 mtpa each."