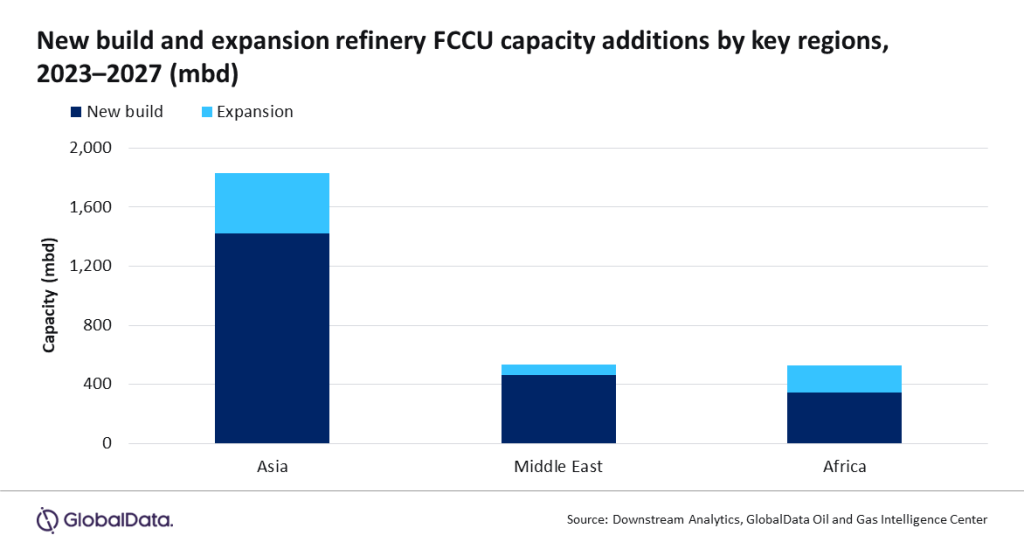 Lagos — Asia is expected to witness the highest refinery fluid catalytic cracking units (FCCU) capacity additions globally during 2023-2027, contributing approximately 58% of the total capacity additions by 2027, says GlobalData, a leading data and analytics company.
GlobalData's latest report, "Refinery Fluid Catalytic Cracking Units (FCCU) Capacity and Capital Expenditure (CapEx) Forecast by Region and Countries Including Details of All Active Plants, Planned and Announced Projects, 2023-2027," reveals that Asia is expected to witness a total FCCU capacity addition of 1,828 thousand barrels per day (mbd) by 2027. Of this, 1,421 mbd is likely to be from new-build refineries while the rest is from the expansion of existing refineries.
Himani Pant Pandey, Oil and Gas Analyst at GlobalData, comments: "In Asia, China is expected to add the highest capacity addition of 513 mbd from seven refineries during 2023-2027. India follows next with 388 mbd of capacity additions during the same period. Vadinar refinery, located in India, is the largest upcoming FCCU project in the region that is likely to add a capacity of 187 mbd in 2024.
The Nayara Energy Ltd, the operator of the Vadinar refinery, is expanding the FCC as part of the company's plans to diversify its petrochemicals portfolio and meet the growing demand for polypropylene in India."
GlobalData reveals that the Middle East is another significant contributor to the global FCCU capacity additions, accounting for 16.8% of the total additions by 2027. Iraq is likely to account for most of the capacity additions of 308 mbd of capacity expected to be added by 2027.
Pandey concludes: "Africa follows the Middle East (16.7%) closely in terms of global FCCU capacity additions. The Lagos I refinery expansion is expected to add the highest FCCU capacity addition of 163 mbd in the region by 2027. Akwa Ibom III, Port Sudan III, and Lobito are the major upcoming projects with 50 mbd of FCC capacity is expected to be added in each of the refineries during 2023–2027."
Follow us on twitter