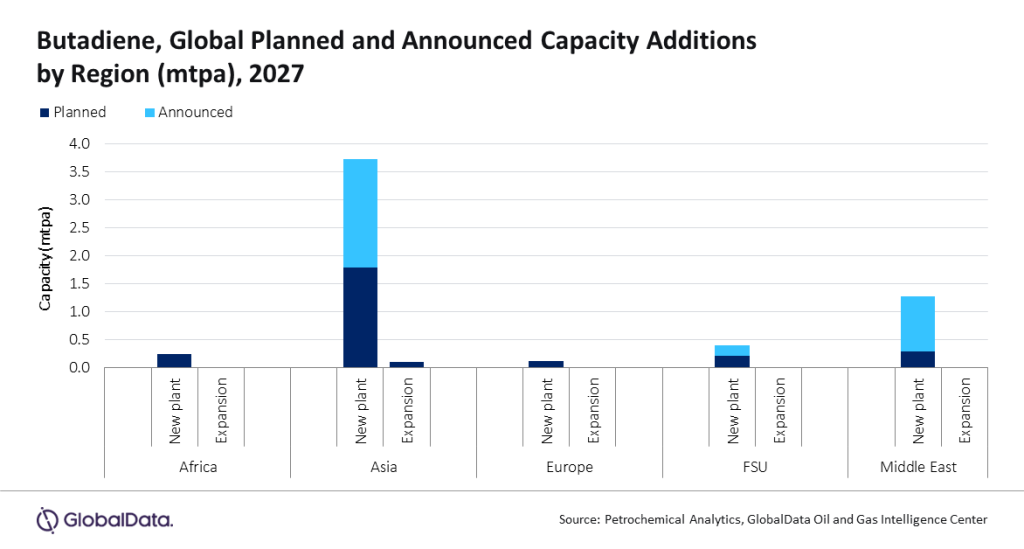 Lagos — Asia is set to lead the global butadiene industry capacity additions with a share of 65% by 2027, by gaining capacities from new-build and expansion projects between 2023 and 2027, according to GlobalData, a leading data and analytics company.
GlobalData's latest report, 'Butadiene Industry Installed Capacity and Capital Expenditure (CapEx) Forecast by Region and Countries Including Details of All Active Plants, Planned and Announced Projects to 2027' reveals that the total butadiene capacity of new-build and expansion projects in Asia is expected to be 3.83 million tonnes per annum (mtpa) by 2027. Increased usage of synthetic rubbers and polymers in end-use industry segments such as automobiles and construction are the key factors for the butadiene industry growth in Asia.
Nivedita Roy, Oil and Gas Analyst at GlobalData, comments: "For the upcoming new build projects, the region is expected to add a capacity of 3.73 mtpa from 20 planned and announced projects, whereas, for the expansion of the existing Butadiene projects, the region is expected to add a capacity of 0.10 mtpa from three planned projects."
China and India will be the key contributors to butadiene capacity additions in Asia. The main capacity addition in China will be from a planned project, Exxon Mobil Corporation Huizhou Butadiene Plant, with a capacity of 0.27 mtpa. It is expected to commence production of Butadiene in 2024.
Nivedita concludes: "In India, Reliance Industries Jamnagar Butadiene Plant, with a capacity of 0.70 mtpa. It is expected to come online in 2026."
Follow us on twitter