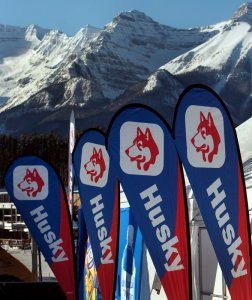 21 November 2018, News Wires — A weak connector on an underwater oil flowline caused a spill during a fierce Atlantic storm last week off the coast of Canada's Newfoundland & Labrador, Husky Energy Inc said on Tuesday.
The spill is the largest-ever off the coast of the Canadian province, the regulator Canada-Newfoundland & Labrador Offshore Petroleum Board said.
Husky, the operator of the White Rose Field, detected the problem on Monday during surveys by a remotely operated underwater vehicle, company spokeswoman Colleen McConnell said.
Husky did not see any further leakage and is surveying all of the underwater flowlines to verify their integrity, McConnell said. The company did not say if the connector was faulty or was damaged by the storm.
The leaking flowline was detected on Friday, when Husky was restarting production after suspending operations a day earlier due to one of the worst storms in decades for the area.
The spill involved 250 cubic meters (1,572 barrels) of oil. It comes after the Newfoundland regulator temporarily suspended operations in the White Rose Field of Husky's SeaRose production and storage vessel early this year. An investigation found that it had not followed its own procedure when an iceberg came too close in March 2017.
The incidents highlight lax regulation of Newfoundland's oil and gas industry and the need for an independent review, environmental group Sierra Club Canada said on its website.
Husky said 11 oiled seabirds had been observed as of Monday.
Last week's leak forced White Rose to shut down, along with the three other producing oil projects in the area – Exxon Mobil Corp's Hebron and Hibernia fields, and Suncor Energy Inc's Terra Nova.
Exxon Mobil has resumed production at Hebron, but Hibernia remains shut in, spokeswoman Lynn Evans said.