31 October 2014, Abuja – The Central Bank of Nigeria's (CBN) rules to curb foreign-currency borrowing by Nigerian lenders threaten to halt Eurobond sales by banks in Africa's biggest oil producer as lower crude prices heighten risks to the naira.
Banks would probably turn to rights offers and naira debt rather than selling dollar bonds, according to FBN Capital, the investment-banking unit of Nigeria's largest bank by assets, Lagos-based FBN Holdings Plc.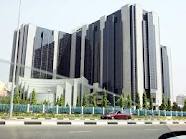 Nigerian dollar notes lost 0.4 per cent this month, compared with a 2.2 percent average return among 57 emerging markets tracked by Bloomberg indexes.
Slumping oil prices are weighing on the outlook for Africa's biggest economy, weakening the naira and eroding foreign-currency earnings. The central bank recently capped the amount of borrowing banks can do in foreign currencies as percentages of shareholders' funds.
"The central bank rule will slow the issuance of dollar bonds," a banking analyst at Lagos-based FBN Capital, Bunmi Asaolu said on Thursday.
"More naira will be raised while the dollar takes the back seat."
Nigeria's foreign reserves dropped for 13 consecutive days to $38.86 billion on October 27, a three-month low. Brent crude oil for December delivery retreated 22 percent from this year's peak in June to $87.12 a barrel yesterday on the ICE Futures Europe exchange in London.
The naira weakened 0.2 percent to N165.60 per dollar yesterday.
Even as the lower price erodes Nigeria's earnings from oil, which account for about 80 percent of government revenue, central bank Deputy Governor Sarah Alade said October 23 the regulator would keep using reserves to support the naira.
Dollars are sold by the bank to lenders at regular auctions twice a week and directly at irregular intervals depending on fluctuations in the local currency.
The central bank's borrowing rules may support the local currency "over time," chief executive officer of Lagos-based Financial Derivatives Company, Bismarck Rewane said.
"Nigerian banks are heavy with dollar borrowings for which there are repatriations in the form of interest and dividends," he said. "This is one of the ways the central bank can check the outflows."
Local-currency sovereign debt returned 9.8 per cent this year in dollar terms, the best in Africa. That compares with a 6.7 percent average among developing-nation domestic debt, according to Bloomberg indexes.
Tapering of monetary stimulus by the Federal Reserve has curbed investors' appetite for assets seen as riskier, such as Nigeria's, pushing up costs for issuers.
FCMB Group Plc, based in Lagos, opted to borrow $300 million from international lenders rather than sell a planned Eurobond to get lower rates.
"Eurobond issuance was expected to be light in the coming months," London-based Standard Chartered Plc's chief African strategist, Samir Gadio said.
"But with the low oil price, it makes it even harder for Nigerian banks to come to the market.
– This Day–