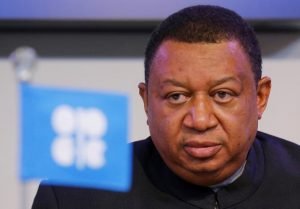 OpeOluwani Akintayo
02 June 2018, Sweetcrude, Lagos – Secretary-General of the Organisation of the Petroleum Exporting Countries, Dr. Mohammad Barkindo, has provided an explanation to market yearnings on how the organisation intends to sustain the Declaration of Cooperation, DoC, voluntarily entered into by 24 countries late 2016.
In his keynote address titled 'Oil market perspectives beyond the short term' delivered at the 25th International Caspian Oil and Gas Exhibition and Conference in Baku, Azerbaijan, obtained by SweetcrudeReports, the OPEC chief described the future of the DoC as critical to the oil market. process.
According to him, success at handling the next phase of the DoC will lead to market rebalancing, a gradual recovery in investments and the return of confidence in the industry.
Going forward, he said such will be achieved through a broader and institutionalised framework of cooperation based on the Declaration's core principles of equity, fairness and transparency.
"We will look into developing metrics and designing mechanisms to help govern against future shocks and extreme volatility in the market", he added.
As the implementation phase continues to advance, Barkindo said OPEC and its partners will take stock of the successes accomplished so far, as it steps back and considers the larger picture and the perspectives over the medium to long-term.
"One of the greatest and most pressing challenges before us is ensuring that there will be adequate levels of investment in a predictable fashion to meet the world's future requirements," he said.
Barkindo stated that although investment had gradually picked up in 2018, the industry is not seeing enough robust investment in long-cycle projects, which he described as the "baseload" of future supply, and the foundation of the industry's future.