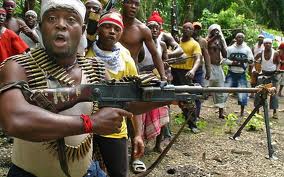 15 April 2014, Abuja – Fresh facts have emerged about how a former senator in Bayelsa State (name withheld) and ex-militant commander in the Niger Delta (name withheld) fled with N2.050 billion paid by the Presidency to some ex-fighters in Rivers State as oil pipeline surveillance funds.
The former senator was said to have escaped to Accra, Ghana, where is presently on self exile while the whereabouts of the ex-militant commander was unknown, as at Sunday.
Investigation by LEADERSHIP revealed that the senator fled the country moment after the money was paid into an account operated by some ex-militant leaders in a new generation bank in Port Harcourt (name withheld), by the Nigerian National Petroluem Corporation (NNPC).
The former lawmaker was appointed a consultant to a company registered to handle oil pipeline protection jobs in Rivers State by some ex-militant leaders in the region.
The pipeline surveillance job was awarded to the ex-fighters by the Presidency for an undisclosed monetary value, to curb oil theft and pipeline vandalisation in the creeks of the state.
The company, Adef Engineering Services Limited, has the Leader of the proscribed Niger Delta Peoples Vounteer Force (NDPVF), Alhaji Mujahedeen Asari-Dokubo, and other ex-militant commanders in Rivers State, Chief Ateke Tom, Soboma Jack, Egberi Papa and Farah Dagogo, as directors.
The company was registered by the Corporate Affairs Commission (CAC) in 2010 with initial share capital of 40million with Tom, Asari-Dokubo and Dagogo owning 9,000,000 shares each while Egberi Papa and Soboma Jack were alloted 5,000,000 each. The balance of 3,000,000 was alloted to those described as "critical beneficiaries and stakeholders."
One of them served as managing director and he was saddled with day-to-day running of the company while Ateke Tom emerged as chairman.
The ex-lawmaker was appointed as a management consultant with a monthly package of N110 million, representing N40 million consultancy fee and N70 million exigency allowance.
LEADERSHIP learnt that the board of the company met and resolved that the salaries and allowances of the workers be paid as and when due on a monthly basis while the remaining fund be kept in the account for the payment of dividends of the directors at the end of each financial year in line with their shareholding.
– Leadership