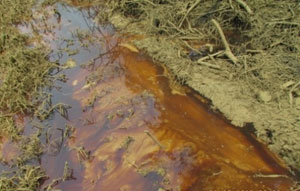 18 September 2014, Yenagoa — The Bayelsa State government yesterday ordered the Nigerian Agip Oil Company (NAOC) to shut down its facilities in Ayarabele and Kalaba communities in the Orkordia Clan of Yenagoa Local Government Area of the state, over rising cases of oil spills in the area.
The state Commissioner for Environment, Mr.Inuro Wills, who gave the order in a statement, said the decision was based on the need to allow a special investigative team to tackle spill related cases in the state.
He frowned at the "intolerable frequency of oil and gas spillages in the state, and the grave consequences it portends for the people and communities".
The statement reads in part: "Following the recent gas spill, which occurred on the 4th of September,2014,at a facility operated by the NAOC in the two communities, the ministry has asked the company to temporarily shut down operations in the facilities"
Meanwhile, the state government said a meeting between the leadership of the impacted communities, the officials of the state government and NAOC has been fixed. The meeting is to discuss the incidence of spillages and work out a programme of rapid and sustained environmental protection and enforcement.
– Daily Trust