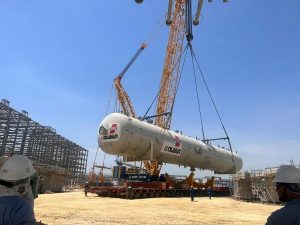 Lagos — Once the expansion of the facilities is completed, this oil field will increase its production from 250,000 bpd of Arab Light crude oil to more than 500,000 bpd, in addition to 40,000 bpd of condensed hydrocarbons.
Sarens has worked on behalf of Snamprogetti Saudi Arabia CO LTD on various heavy lifting tasks and transporting loads of more than 500 tonnes over a distance of more than 80 km.
The Berri Oil Field expansion project, scheduled for completion in late 2023, will double its crude oil production capacity to over 500,000 barrels per day from the current 250,000 bpd by including a new gas oil separation system (GOSP) at the Abu Ali plant, which will reduce water use by 30%, sourced directly from wells via trunk lines without an intermediate crude oil storage facility.
Sarens, world leader in heavy lifting, engineered transport and crane rental, has been directly involved in this project on behalf of Snamprogetti Saudi Arabia CO LTD, providing, in addition to its engineering team, a Liebherr LR1750 crane unit with a maximum load capacity of 750 tons, as well as 64-axle SPMT (Self-Propelled Modular Transport) to carry out various heavy lifting and material transport tasks to its final location.
This work posed a major logistical challenge, as the site on which the work was carried out had very limited space. In addition, the inland transportation of loads of approximately 500 tons over a stretch of almost 80 km was another challenge faced by the Sarens technical team, given that the route to be taken included residential areas, sharp bends and low allowable bearing pressure due to the existence of underground structures and channels.
Once the installation of the new GOSP has been completed, stabilized crude oil will be transported to the Juaymah terminal, while sour gas will be transported to the Khursaniyah Gas Plant. In addition, a Water Injection facility, a Water-Oil Separation Plant (WOSEP) and an Effluent Water System supported by PMC, PIB-I and PIB-II are planned. As a result, production is estimated to increase to 526 MBOD of crude oil, 129 MMSCFD of export gas, 41 MBD of gas condensate and 683 MBWD of produced water.
Sarens has extensive experience both, in the region and internationally in the oil & gas sector. Together with McDermott, the company took part of the heavy lifting and load out operations at Jabel Ali as well as at Battam for Saudi Aramco's Marjan Field Package 1. Sarens has also collaborated in projects such as the construction of several offshore jackets to increase QFAB's liquified natural gas production and the expansion of the Al Shaheem offshore oil field in Qatar, as well as the upgrade and improvement works of PT Pertamina refinery in Balikpapan, Indonesia.