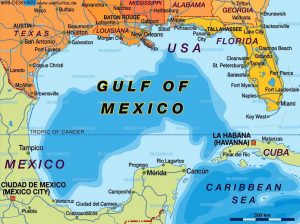 New wire — The Biden administration launched the first ever auction of offshore wind development rights in the Gulf of Mexico on Tuesday, expanding its bet on the nascent clean energy industry to a major U.S. hub for oil and gas production.
The sale is a major milestone in President Joe Biden's agenda to make offshore wind a cornerstone of his plan to fight fossil-fuel driven climate change.
The Interior Department is auctioning off a lease area of 102,480 acres (41,472 hectares) off the coast of Lake Charles, Louisiana, and two areas totaling nearly 200,000 acres offshore Galveston, Texas.
By the end of the first round of bidding at 9 a.m. EDT (1300 GMT), the online sale had drawn over $15 million. The auction is being run by Interior's U.S. Bureau of Ocean Energy Management (BOEM), which oversees offshore energy development.
According to a BOEM document, fifteen companies are qualified to bid at the sale. They include offshore wind development arms of European energy companies Equinor, Shell, RWE and TotalEnergies, all of which are already developing U.S. offshore wind leases in other regions. Equinor and Shell also have oil and gas operations in the Gulf.
Newer entrants to the U.S. offshore wind industry include divisions of South Korea's Hanwh, U.S. renewable energy developer Hecate Energy, and Houston private equity firm Quantum Capital.
The areas up for sale have the potential to generate about 3.7 gigawatts of power and could supply nearly 1.3 million homes with clean energy, Interior has said.
Developers, however, are looking beyond the grid in the Gulf, eyeing the sale as a possible way to fuel a green hydrogen supply chain for the region's vast industrial corridor.
The Gulf's lower wind speeds, soft soils and hurricanes are potential challenges the industry could face that are unique to the region. The Southeast also has low power prices that could make it harder for higher-cost offshore wind generation to compete for electricity contracts.
The Gulf auction is not expected to attract anywhere near the billion of  dollars of bids in an offshore wind lease sale off New York and New Jersey in February 2022.
Those states have passed laws that require utilities to buy power from offshore wind projects – mandates considered critical for a technology that is estimated to produce electricity at twice the cost of a natural gas plant.
Reporting by Nichola Groom Editing by Marguerita Choy and Nick Zieminski – Reuters
Follow us on twitter