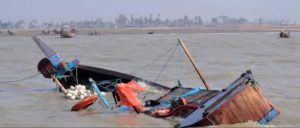 Maiduguri, Nigeria — At least 50 people drowned, and several others were missing after an overloaded boat capsized in Nigeria's north central region, residents and state officials said on Tuesday.
The wooden boat was ferrying people across a river to Kwara state after a wedding ceremony in neighbouring Niger state when it capsized on Monday night, local residents said.
It was not immediately clear how many people were in the boat, but Kwara state government in a statement said the people were from five villages and rescue efforts for possible survivors were still underway.
The statement said the Kwara state governor commiserated with the people "on the devastating news of a boat mishap in which dozens of people were feared killed and many others still missing."
A Kwara state police spokesperson could not be reached for comment.
Fearing abductions by armed gangs on the roads, some Nigerians use boats to travel to nearby locations. However, overcrowding and poor maintenance is responsible for most boat accidents on Nigerian waterways.
*Ahmed Kingimi; MacDonald Dzirutwe; Editing: Bill Berkrot – Reuters
Follow us on twitter