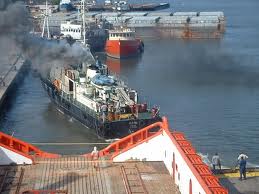 Daniel Gumm
21 May 2012, Sweetcrude, WARRI – THE Nigerian local content got a boost, weekend, as Petroleum Minister, Mrs. Diezani Alison-Madueke, inaugurated Africa's largest oil vessel in Warri, Delta State.
The oil equipment, christened Akpevweoghene Offshore Pipelaying/Derrick Barge, is owned by an indigenous oil servicing company, FENOG Nigeria Limited.
The Petroleum Minister, at the ceremony, witnessed by Group Executive Director, Nigerian National Petroleum Corporation, NNPC, Mr. Andy Yakubu and his Gas Resources counterpart, Mr. David Ige, as well as Executive Secretary/Chief Executive Officer, Nigerian Content Development and Monitoring Board, Engr. Ernest Nwapa, assured that the Federal Government would continue to support and encourage indigenous companies operating in the oil industry in line with its local content policy.
Mrs. Alison-Madueke, who said she was impressed by the giant strides achieved by FENOG, especially with the company's acquisition of the HDD Technology and the Akpevweoghene barge, assured that the local content policy was not a lip service and mere slogan.
She said the policy would entrench indigenous operators in the nation's oil industry. The minister, who was conducted round the unique features of the equipment by the company's Executive Director, Mr. Mathew Tonlagha; Group General Manager, Mr. Bello and General Manager, Engr. Chukwudi Uwakwe, praised FENOG's management for its steadfastness and commitment to the growth of the local content policy.
Mrs. Alison-Madueke charged other operators in the oil industry to emulate FENOG Nigeria. She said: "I am extremely impressed with what I have seen here today at FENOG Nigeria. This is 100 per cent indigenous Nigerian company that has got to the stage that it can actually procure and manage a vessel of this size that can carry over 300 people. With the kind of facilities we have seen here that can actually lay pipes offshore from 4″ to 36″, I believe it is something that is most commendable."