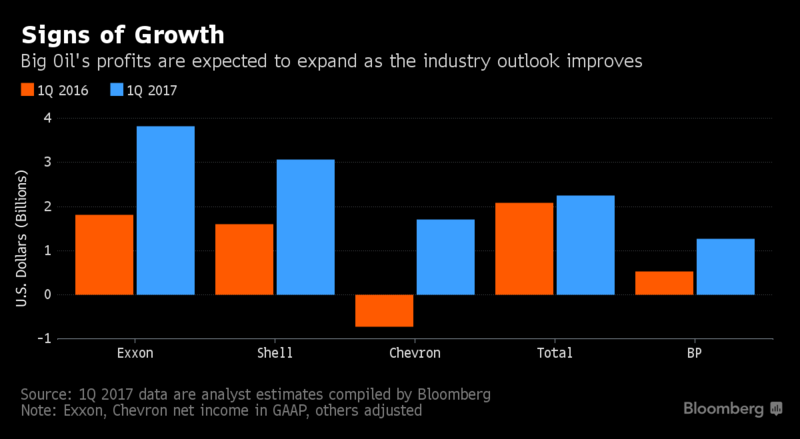 OpeOluwani Akintayo

26 October 2017, Sweetcrude, Lagos — Fresh findings have revealed that international oil majors such as BP, Shell and Total and others are paying shareholders' dividends with Shares.
According to information gathered, prices at which these oil majors can cover payments of their dividend and capital expenditure have dropped due to the fact that they had stopped investments in projects, renegotiated contracts and laid off thousands of employees to cut costs and generate income in the current low-crude-price era.
Reports say despite that BP, Shell, Total, Exxon Mobil, and Chevron continue to give a portion of shareholders payouts in shares, they are still unable to cover the entire dividend owed.
For instance, in the third quarter, BP cut the price at which it would cover the dividend and spending to $54 a barrel and Shell to $55 a barrel.
Brent crude averaged $52.17 in that period and traded near $58 on Wednesday.
With oil hovering around $50 per barrel this year, big oils have proved that they can still survive by way of cutting costs and investments in capital projects.
However, despite the drop in price and oil majors surviving below the once lavish spending that came with $100 oil, the market still expects investments in projects to be assured of future growth.
Investors also expect the oil majors to keep paying dividends without borrowing.
Drop in investments in the sector is not over yet, as according to estimates by UBS Group AG, spending by oil majors is likely to drop for a fourth consecutive year in 2017.
The five biggest oil producers generated about $34 billion from operations in the third quarter, according to estimates from Jefferies LLC, an earning described as a welcome return after three years of lows.
Although the oil majors are reaping the benefits of deep cost cuts however, they are still not doing quite enough, likewise unable to meet up with fully funding dividends and investments at $40, or even $30 a barrel, according to BP Plc Chief Executive Officer Bob Dudley.
"It's not peak diet yet. Our industry is going through a great, massive change in the cost structure" said Dudley.
Total SA, Exxon Mobil Corp and Chevron Corp will announce results of third quarter earnings on October 27, BP on Oct. 31 and Royal Dutch Shell Plc November 2.