27 August 2015, News Wires – Brent crude climbed by more than $1 a barrel on Thursday on an unexpected fall in US crude inventories and a rally in global equity markets, but a stronger dollar capped gains.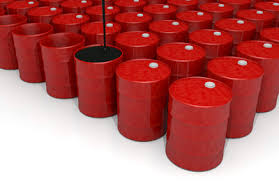 Front-month Brent, the global oil benchmark, had gained $1.03 to $44.17 a barrel in early trade, having ended down 7 cents at $43.14 on Wednesday.
US crude's front-month contract rose 91 cents to $39.51 a barrel, after settling down 71 cents, or 1.8%, at $38.60 a barrel.
"The local region is … shrugging off some of the currency impact, instead pricing in the draws on inventory and a better than expected industrial outlook," said Michael McCarthy, chief market strategist at CMC Markets in Australia.
US crude inventories fell 5.5 million barrels in the week to 21 August, the biggest one-week decline since early June, data from the Energy Information Administration showed on Wednesday. That was in line with the industry group the American Petroleum Institute's late-Tuesday report.
Analysts had expected an increase of 1 million barrels.
Wang Tao, a Reuters market analyst for commodities and energy, said Brent crude may approach resistance at $44.64 per barrel again, as its bounce from the 24 August low of $42.23 seemed to be incomplete.
In other financial markets, a rebound on Wall Street helped soothe investors' tattered nerves, while the dollar rallied as risk aversion eased.
Regaining confidence after a sharp rebound on Wall Street where investors had been hit by worries over China's faltering economy, London copper futures also strengthened on Thursday.
Data released on Wednesday showed US non-defence capital goods orders excluding aircraft, which is a proxy for business investment, increased 2.2% in July, the biggest rise since June last year and handily beating expectations.
"This suggests that business investment has continued to pick up at the beginning of the third quarter following a solid finish to the second quarter," ANZ said in a morning note on Thursday, referring to the US core capital goods order data.
– Reuters